Saucony Axon Review
Saucony Axon is maximally cushioned neutral shoe in the budget. It has a rocker design, balancing comfort and smoother ride for those longer runs.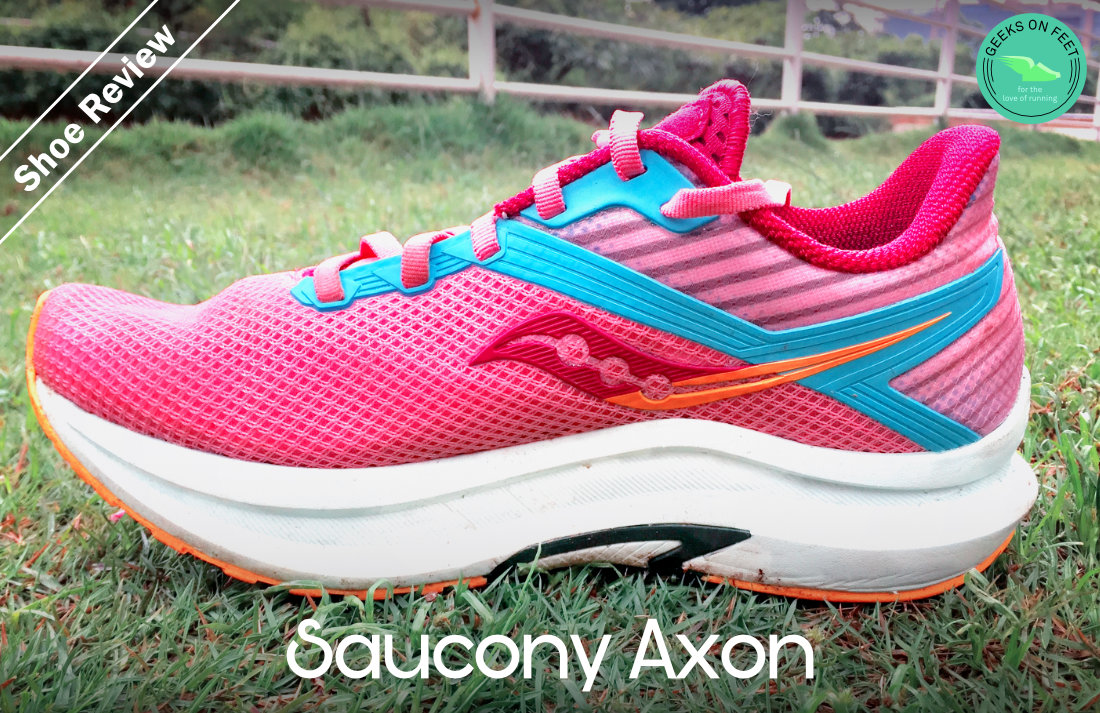 The trend of the high-stack and maximalist shoes has really caught up. Runners who want to go the distance and yet like the comfort of cushioning prefer the maximalist shoes. In the past, only drawback used to be the weight because of high-stack. But the modern lightweight foams allowed the shoe designers to increase the height of the midsole and yet keep the shoe weight in check. Till recently maximalist shoes have been high-priced super shoes.
Saucony Axon brings the high stack design (35mm) to entry-level segment. Axon is the new addition to Saucony's budget line-up landing at ₹ 6500 - 7500 (within 100 $) in India. At this price point and with its stack height, Axon has no competition in its segment. Axon has far more cushioning than any other shoe in this segment. It has a clear advantage over its competition such as Brooks Revel 5, Nike WinFlo 8, Asics Evo Ride, and other budget-neutral trainers.
What makes up Saucony Axon?
Axon uses a rocker design inspired by Saucony's Endorphin line of shoes. If you keep Endorphin Shift and Axon side by side, you can see the similarities very clearly. Rocker design allows the foot to move smoothly, despite the higher and inflexible midsole.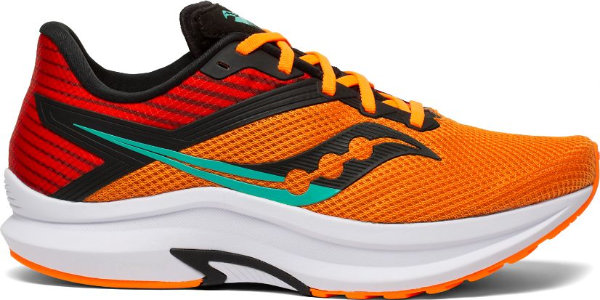 Midsole
Saucony Axon uses generous amounts of PWRRUN foam which is a lightweight EVA foam. It is the same foam used in Saucony Kinvara 12 (check out our review). PWRRUN foam is much firmer and denser compared to PWRUN+ foam used in Saucony Hurricane 23 (check out our review). So don't expect too much bounce. Midsole stack height is 35mm under the heel and is 31mm under the toes, with a 4mm heel-to-toe drop.
Upper
The upper unit of Axon is a very simple, breathable, mesh. There are no overlays and keeps the weight in check. The published weight of the shoe for US 9 Men is 264g and for the women is 232g. This mesh is light and moves well with your foot as you move in the run.
Heel
There is plenty of padding at the heel, which locks the heel very well.
Bottom sole
Saucony has used a durable rubber outsole. This rubber offers an excellent grip on dry road surfaces.
Why did I consider this shoe?
In the past, most of my shoes lacked the cushioning for me to comfortably run longer distances beyond 21 Kms. With that in mind, Saucony Axon hits the mark well. With all that cushioning under the foot and quality PWRRUN foam, I was able to use it comfortably for 5, 10, and 21 KMs. I also was able to dial-up speeds for tempo and fartleks due to the roll design. It feels very good and 'natural on foot' on the longer runs and recovery days.
Ride In Axon
I got the 'Future Pink' and loved the initial impression. I have run 100+ Kms in this shoe already. So far, I have used this shoe for Easy runs, Tempo Runs, and Long runs. I am yet to run a race in this. It is value-oriented 'Training shoes', and is reasonably versatile.
Fit & Comfort
When I put them on, I loved the cushion but was surprised about the balance from the heel to the toe. On the initial run in them, I went for a 16 KM run with 5 KM at tempo pace. It was not a scheduled run, but I wanted to see what would happen with some tempo and distance. They were great and felt like they were already broken in and ready to go. When I first ran in it, it did feel like on the firmer side, but when you start running, and when you get it underfoot, it softens up quite a bit, with a really nice underfoot experience.
Midsole cushioning is very comfortable, effortless feel on foot. You can use it for a wide variety of training needs. Bounce is decent, and makes you go faster, and yet stable. The post-run feel in Axon is really smooth. No blisters or soreness.
Road Grip
The shoe is very good for road running. I have also run on a fairly wet surface, and there were no issues with the grip so far. However, this shoe is best for dry surfaces. If you usually run on dry surfaces, you should absolutely look into getting a pair of these as an option for your running closet.
Aesthetics
I have picked up 'Future Pink' and it is absolutely gorgeous! It has a sleek and breathable air-mesh. It is easy to clean as well.
Review Summary
PROS
An execellent price point for a maxiamlist shoe.
Plenty of cushioning that makes those long runs very comfortable.
Rocker design, that also lets you go fast for those speed sessions.
The upper mesh is very breathable.
CONS
It is a bit stiff initially, but softens up quite a bit as you break-in.
Traction on wet surfaces can be better.
RECOMMENDATION
Axon is is a maximalist shoe in the budget. If you are looking for a high value trainer with comfort during long runs as the primary objective, and yet want to have some speed, then Axon is highly recommeneded.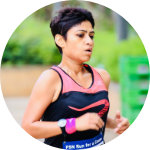 When you have friends who are into running, cycling, mountaineering, you do not have much choice but to join the wagon. That's how Running started for Sanghamitra in 2013 and it is pretty much part of her lifestyle now. She is a recreational runner and enjoys any running format, however her favourite distance is 10K, anyday. Though she has graduated from Marathons to Ultra Marathons, it is still a Work in Progress. You can follow her on Strava (https://www.strava.com/athletes/51373015)