Saucony Hurricane 23 Review
Hurriance 23 is a stability shoe with a difference. It sets itself apart with plenty of cushioning offering a soft and bouncy ride for those long runs.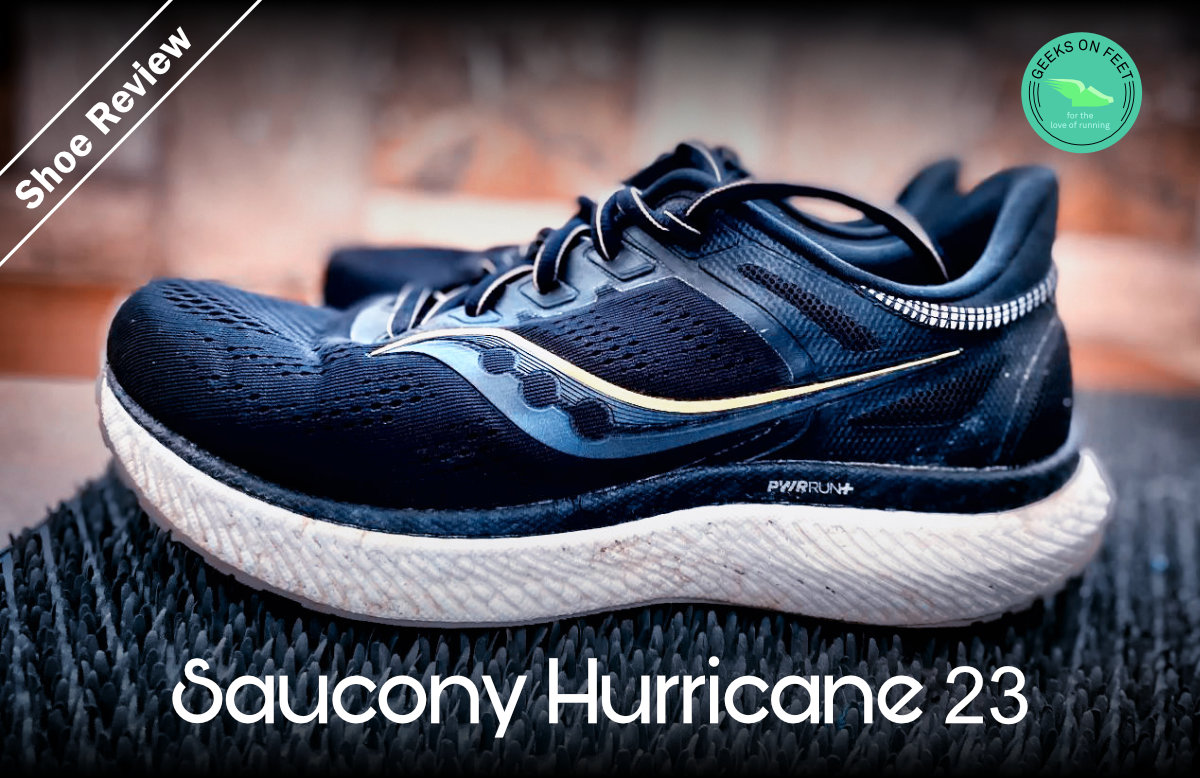 If you are looking for a modern stability shoe with high-stack and plush cushioning, you have come to the right page. Saucony has lined up a spectrum of stability shoes from Guide, Omni to Hurricane, offering a good choice.
What makes up Saucony Hurricane 23?
Hurricane 23 is designed to be bouncy and well-cushioned yet offer stability. In terms of the Saucony lineup, it serves as the high-cushioned, medium stability shoe. Hurricane 23 is the stable counterpart of Triumph 19. In terms of stability features, it fits in between Guide and Omni.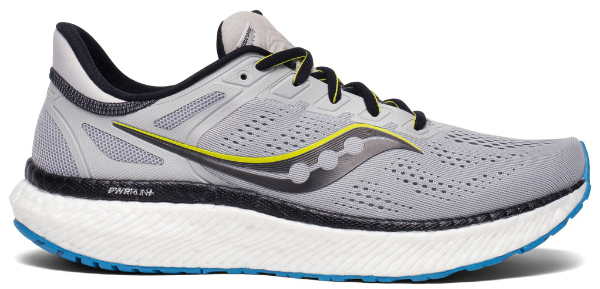 Midsole
The midsole is made of PWRRUN + foam. PWRRUN+ is a modern e-TPU based midsole made from fused TPU beads (similar to Adidas Boost, Puma Hybrid, and Reebok FloatRide foams). A stack height of 33.5mm, the midsole offers high-level cushioning and very good bounce, which is rare for a stability shoe.
Unlike traditional stability shoes, Hurricane does away with the dual-density foam medial post but uses a harder L-shaped TPU based guidance frame. TPU based guidance frame does the same job as a traditional medial post, that is to offer support to the arch.
Upper
The Upper is made of engineered mesh and is very breathable. It locks the foot securely and provides a very snug fit. Upper has several plastic overlays to provide structure and also improve the support. The lacing system also uses a plastic overlay. Interestingly there are two extra eyelets on the medial side (normally there is one), which offers additional customization to adjust the shoe the support runners need.
Heel
The shoe comes with a plastic heel counter providing good padding at the back. This prevents heel slippage and gives a secure fit.
Bottom sole
XT900 is the premium rubber material that Saucony uses for its shoes. Hurricane gets a full-length XT900 outsole which adds further support. The outsole also has deeper and extended guidance grooves which improve the flexibility. XT 900 also makes the shoe more durable.
Why did I consider this shoe?
I have been putting in a lot of Mileage lately, hence was looking for a daily trainer that can help me through the long runs with good cushioning and support. Hurricane 23 helped me in absorbing the impact on my arch which used to cause plantar pain in the past. This is a shoe that has the right amount of Stability and Cushioning among the stability shoes in the market. Also since most of my training runs (85-90%) aerobic, this is the perfect daily trainer that I was looking for.
Ride In Hurricane
I have run close to 400 km in this shoe already. It did take time to break in, and after about 50kms is when I started to feel comfortable in them.
It has an excellent bounce giving a very good push. For longer runs, high stack midsole and soft cushioning reduced the impact on my feet, aiding in less fatigue during the run and better recovery post the run. It's one of the best daily trainers I have used thus far.
Fit & Comfort
Though I have wide feet, I am used to running in narrowly fitted shoes in the past. So it did take some time to get used to the roomy forefoot. The shoe has a wide base, which also helps with stability. Despite the higher stack height, it is very stable even on trails. These shoes are true to size and fit very well.
Road Grip
Full-length rubber bottom sole offers very good road grip. Though it is a road shoe, it performed very well when running on trails as well. Not once have I felt uncomfortable in them on trails. They had a good grip on graveled surfaces as well.
Review Summary
PROS
The Hurricane 23 delivers a supportive ride, contributing to this is the balanced cushion (good firmness-to-softness ratio) and wide base of the shoe.
It's "not too tight or too loose." With the additional pair of holes, you can lock in a secure fit.
Unlike other stability models, this shoe is responsive with PWRRUN+ Foam can be also used for fast-paced runs.
Even in wet conditions, the shoe has a good grip.
CONS
The shoe still felt bulky because of all the stability features.
The shoe is priced at premium and slightly higher than Guide and Omni, that could be because of the midsole and and additional materials.
RECOMMENDATION
Saucony Hurricane sets itself apart from other stability shoes with high stack of soft TPU based foam offering very good bounce. It is a daily trainer, and is recommended for those running long and need support, but don't want to compromise on comfort and bounce.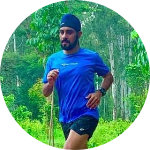 Kuljeet is an avid trail runner, and explorer. He is currently training towards long distance trail running. His marathon personal best is 3h:21m. He is on instagram at https://instagram.com/metalheart80