Saucony Kinvara 12 Review
Kinvara 12 is the lightest and most versatile daily trainer in the market. It is cushioned, low-profile and doesn't come in your way of running.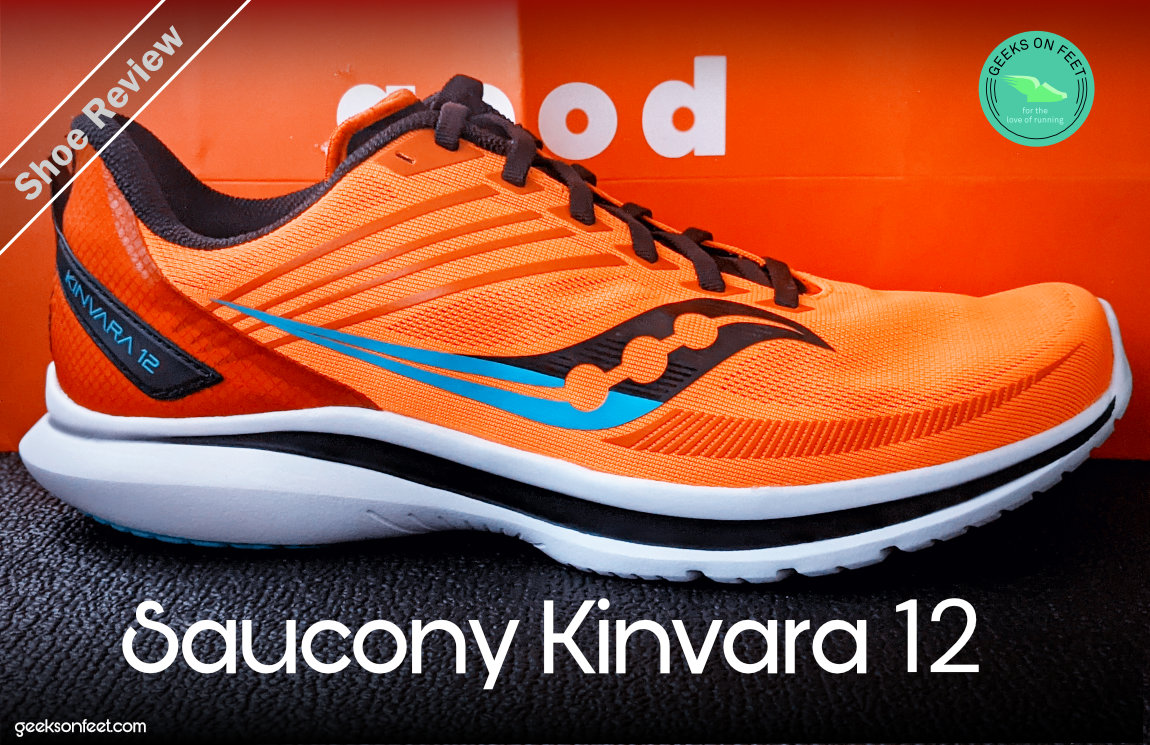 Ever since the first edition of Kinvara introduced the 4mm heel drop in 2009, it influenced the midsole design of running shoes drastically. It is now rare to see shoes with heel drop more than 10mm. In its twelfth edition Saucony Kinvara continues to hold the baton of natural running.
In Saucony's running shoe line-up, Kinvara 12 has a special place. It is the go to shoe for a lightweight, well cushioned, neutral daily trainer. It is designed to be a very versatile shoe to handle any kind of run, speed work, or marathon. While It is in the same category of daily neutral trainers as Brooks Ghost, Nike Pegasus, and the likes, it is still different. Shoes like Pegasus changed its ways to keep up with the current trend of high stacks, while Kinvara 12 continues to be true to its original design philosophy, yet it stays right at the top of the list of modern neutral trainers.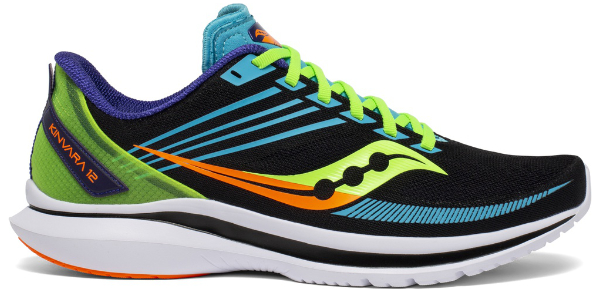 What makes up Saucony Kinvara 12?
If you are running in Kinvara for the first time, first thing you will notice is how light it feels for a neutral daily trainer that costs under ₹10,000. It is built as a traditional shoe but with a low heel drop of 4mm. With a published weight of 213g (for US9) and 216g for UK 10 (as we measured it), it is the lightest cushioned daily trainer in the market. Other shoes in this category, such as Nike Pegasus, Brooks Ghost weigh upwards of 260g. With a stack height of 28mm, it is also the lowest profile amongst its category.
Midsole and Outsole
Kinvara 12 is made of PWRUN Midsole, which is a light-weight blend of EVA. It is firmer than TPU and PEBA foams, but is very flexible. It naturally bends along with the feet, as we run. As an EVA blend, it is also very durable, so much so that Saucony designers decided to expose the midsole fully with very little outsole rubber on it.
Upper
The upper is an engineered mesh, and is very well constructed and seems durable. With almost no other overlays, it is very well ventilated and airy. It is very stretchy, and gives plenty of room for toes to move around while running. Wider shape of the shoe combined with the upper mesh makes it quite suitable for runners who prefer the shoes to be roomy.
Heel
The heel is very well padded at the back and gives plenty of confidence during foot transition at toe-off. The midsole below the heel is built such that the shoe feels very stable. The bottom part of the midsole flared out quite a lot (at forefoot and heel), which is probably the reason why the shoe feels stable.
RIDE IN KINVARA
AD
Truth be told, this is the first time I have tried any other shoe brand than my usual favorite. I have run more than 150kms both at tempo and easy paces and the longest run was ~17kms. The light weight of the shoe surely helps with the pace as the cadence increases. Furthermore, I'm more aware of the way I'm striding because of the low heel drop and the lower stack height.
These shoes have speed written all over. If you have been practicing well and are looking for a short-distance race, the shoes will improve your cadence and pace by a notch. For faster-paced runs such as strides, and tempo runs, the bounce from the midsole comes very handily. Given the lighter weight and extremely flexible midsole, which makes the shoes excellent for uphill running.
AR
With all my recent running in high stack shoes, carbon plates, and rocker profiles, running in Kinvara feels very different, but in a good way. The shoe didn't need any break-in, but for a bit of adjustment to low heel drop for the first few km. Once done, the shoe is as comfortable as it can be. I have run 130 km so far, the ride experience is as good as the very first day.
I have used the shoe for interval runs, tempo runs, easy and long runs of more than 25 KM distance. The shoe is as versatile as it can be. No matter the type of run, it works very well. For interval and tempo workouts, it offers enough bounce. For longer runs, there is enough midsole cushion across the entire foot, and the lighter weight of the shoe keeps me comfortable even in the latter kilometers. However, I may not consider this shoe for training distances beyond 30 KM, as I am better served by shoes that have more cushioning and are much softer.
The low heel drop definitely promotes mid-foot strike better than other shoes that I have used. Despite being a very flexible shoe, the extra outward flare at the bottom helps the stability. My pronation angles reflect it, and are quite low too at 7 degrees, compared to the 11 degrees that I see in my other shoes. That said, I don't expect it to match with stability shoes. For neutral runners wanting slight stability with lightweight, Kinvara could be a good option. Here is how my foot strike and pronation measures (courtesy: RunMechanics).
Fit & Comfort
AD
I use UK 6 and the shoe is true to size. The shoes fit snugly on my feet, and the toe box is roomy. The laces lock well and don't come off while running. The cushioning is good enough for long runs. But during the latter kilometers, I feel the feet hitting the road harder, due to the stiffness of the midsole. The heel collar is well padded and hugs the back of the feet very well. It gives good grip and confidence during faster paces. The shoe tongue is attached and is held very securely in place. I have the future black color, it has many shades of color and is quite colorful.
AR
I use UK size 10, and the shoe fit is perfect for me. If you are a user of Nike, Puma, or Asics, you can consider the same size. The midsole cushioning is well balanced across the feet, so there is plenty of protection across the heel, midfoot, and forefoot. What I like the most about the shoe is the flexibility. The shoe bends naturally along with the foot during toe-off, which makes the ride very enjoyable. There are few studies that say, the flexibility of running shoes is one of the defining characteristics that determine shoe comfort. I can't agree more.
My toes run high, and that often causes cuts, blisters, and bruised toenails after the longer runs. Kinvara's wide forefoot shape, and stretchy upper mesh, really helps. If you are like me and have an issue with toes, Kinvara could be a good option to consider.
I have run in the rain quite a few times, and it is the most comfortable than any other shoe. The upper doesn't absorb water, nor does the midsole. Despite not having much rubber on the outsole, the outsole grips quite well and is good for most conditions including wet roads. However, it does have traction issues when there is loose sand.
Packaging
AR
I like to give a shout-out to Saucony India for the packaging of the shoe. The package has a pace chart at the back and has a space to log Personal bests. While the utility is questionable, it is a nice touch. The package also included a cap and a saucony branded t-shirt.
Review Summary
PROS
Very versatile and can handle any type of run
Low heel drop promotes natural running
CONS
The midsole is firmer compared to other neutral trainers
May not work for heel strikers or those with niggle in the heel
RECOMMENDATION
Kinvara 12 is the best neutral trainer out there. It is the most versatile and can handle any type of run, easy, tempo, long, or speed workout. If you are a midfoot or forefoot runner and are looking for a very versatile shoe that doesn't interfere with your natural running, then Kinvara 12 is the go-to shoe.

Rotation: Kinvara can handle training up to any distance, and racing up to half-marathon. While well-conditioned runners can use it for racing marathon distances, that space is well addressed by higher stack shoes like Saucony Endorphin, Brooks Hyperion, Puma Nitros, and Nike ZoomX.

Aditi Pandya is an avid runner, a writer and a fitness enthusiast. She is second runners up at Airtel Hyderabad Marathon 2019, Vadodara International Marathon 2020 in Women half-marathon open & veteran categories respectively. She blogs at NarrativesByMe.com and can be reached on Insta @narrativesbyme

Aravind is a techie, running geek, and a marathoner. He is a CrossFit Level 1 Trainer. He loves all things technology and technology in running, with special interest in running form analysis.