Carbon Plated Shoes in India
Up-to date list of carbon plated shoes currently available in India and their prices.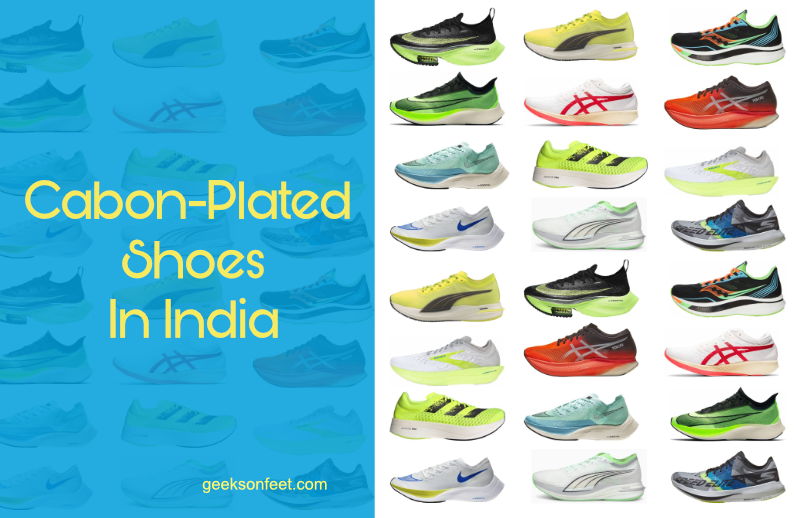 The last 4 years have been a runners' treat (for their sole) w.r.t innovation in Shoes. The mid-soles are softer, and lighter; bouncy carbon plates, sock-like uppers, lighter and yet high traction bottom soles, have redefined how running shoes feel and run. Out of all the new innovations, the use of carbon plates in the midsole is game-changing. Carbon plates upped the game when it comes to long-distance running performance. There were no world major races won by athletes not wearing Carbon plated shoes in the last year.
How do Carbon-Plated Shoes Help?
It is a known fact that increased stiffness in shoes helps ankle and MTP joints (joints connecting metatarsal bones and toes), by reducing the amount of work that they have to do. Adidas was the first shoe-maker to use Carbon fiber for propulsion plates in running shoes back in the 90s. However, these shoes were hard to run because only very few runners have the forefoot strength enough to benefit from the plate. Even if there was a benefit, it is only about 1%, as the plate added more weight. Also since the shoe midsole height is not high enough, so the plate shape was flat and was not springy enough.
They say great innovations come in a package. It is the introduction of PEBAX foam that has changed everything. Extremely lightweight PEBAX foam allowed building shoes with a higher stack without adding any weight. That allowed Nike to have enough space in the midsole to use a curved carbon fiber plate instead of a flat plate earlier used by Adidas. That is how VaporFly 4% was born. Even runners with moderate pace were able to get the benefit from springiness by the increased stiffness of the shoe, and improved the running economy and speed.
Popularity and Availability in India
Carbon-plated shoes have become quite popular in Indian running community. In the recently concluded Bengaluru marathon 9 out of top 10 runners were running in Carbon-plated shoes. However, availability of Carbon-plated shoes beyond the ones from Nikes have been an issue. More and more shoe brands are now coming forward and releasing their carbon-plated shoes in the market. The more the variety the merrier. At GeeksOnFeet, we love all things shoes and here is our effort to consolidate all the carbon plated shoes available and their prices. This list is a living list and will be updated periodically. If you find any discrepancy, please write to us at [email protected] and help us fix it.
List of Carbon-Plated Shoes
Compiled by Team GeeksOnFeet for the love of running