Puma Liberate Nitro Review
One of the lightest shoes in the market. Low profile, medium cushioned, and is highly recommended for speed training. Works well for training and racing distances up to half-marathon.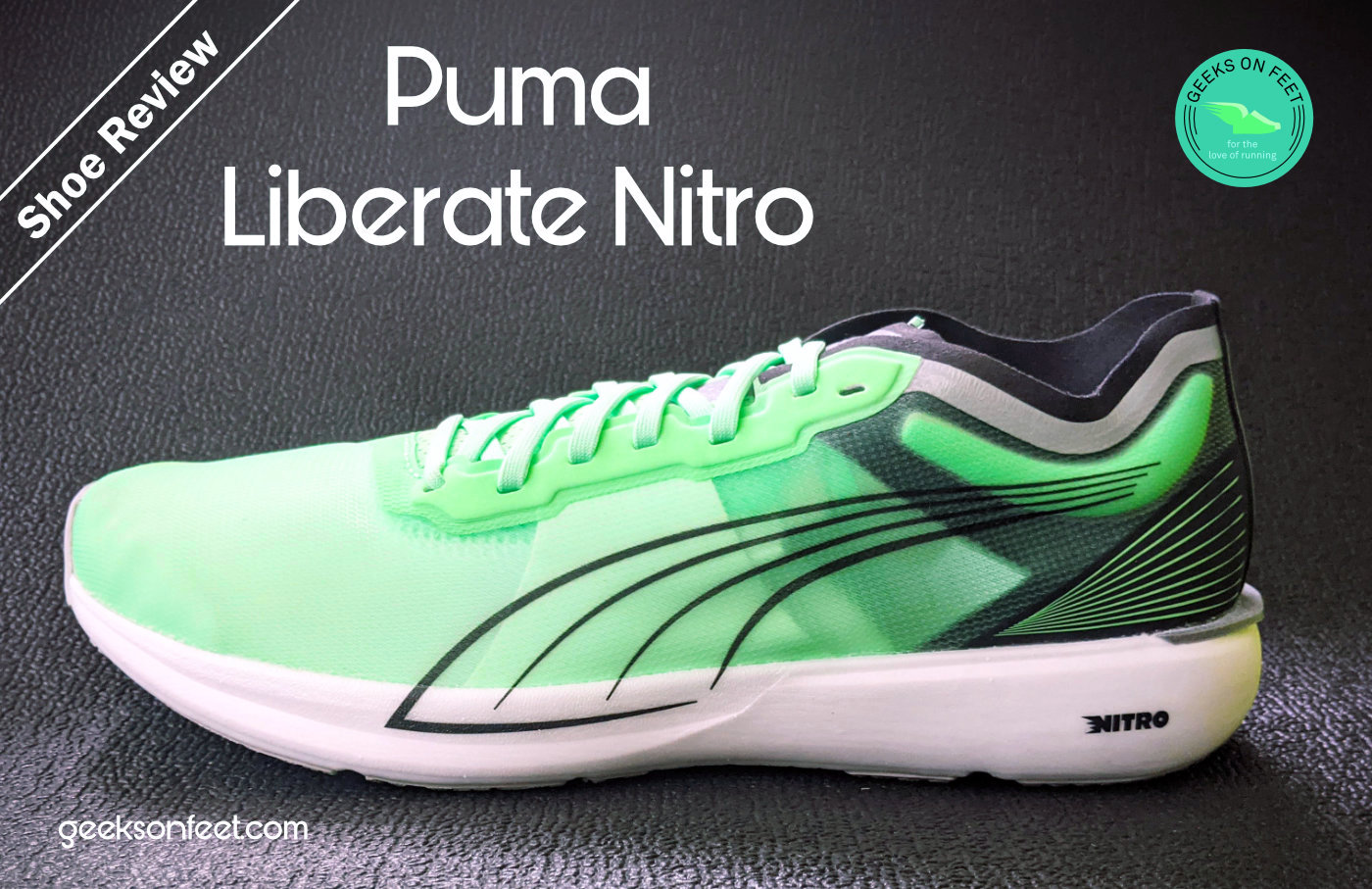 Primarily coming from a background of minimalist shoe running, I didn't experiment much with the new carbon fiber plated super shoes and shoes with modern energy-returning supercritical foams. I was curious to experience those shoes. After reading the Puma Velocity Nitro review by GeeksOnfeet (review here) and having them available at good discounts on Amazon, I took the bait. The intention was to use Velocity Nitro for easy runs and LSD runs. After a couple of weeks of running, I've realized it wasn't light enough that it could be used for tempo runs and intervals. I have chanced upon Liberate Nitro, and it seemed a perfect match.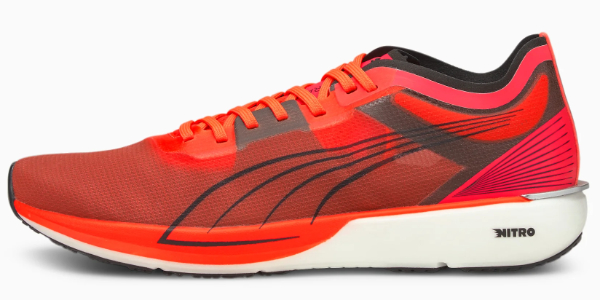 What makes up Liberate Nitro?
Aptly named Liberate Nitro feels like the stripped-down version of its "easy and LSD run counterpart", the Velocity Nitro. It is a neutral shoe and does not interfere with your foot's natural pronation. It is built as a traditional shoe with a heel drop of 10mm. With a published weight of 178g (for US9) and 192g for size for my size US 11, it is one of the lightest shoes in the Indian market.
Midsole
Unlike the Velocity Nitro, the midsole has only one layer of foam i.e. the Nitro foam. Nitro foam is made by infusing Nitrogen into EVA. This is similar to the DNAFlash foam that is found in Brooks Hyperion Tempo. Note: Velocity nitro has 2 layers of foam, Nitro foam and ProfoamLite foam (this is a traditional EVA foam) which is on the bottom layer. The single foam layer in Liberate is to keep the weight low. The midsole has a 30mm stack height.
Upper
The upper mesh is a mono-mesh, is very light and almost transparent, and highly breathable. It also has a gusseted tongue that spans the mid and forefoot area.
Heel
Heel of the shoe is flexible but is reinforced by a semi-rigid bar which manages to keep the heel locked in place. There is minor padding on the inside part of the heel. But the top heel counter is not padded at all and is also quite high. So it may rub into the Achilles part of the heel for a few.
RIDE IN LIBERATE NITRO
Usage - The shoe did not really need any break-in, at least for me, and felt right from the start. I have clocked 60 km so far in this shoe. I have used it primarily for tempo and longer intervals, barring a couple of easy runs. I can say it is a very comfortable and light shoe. It comes with a good energy return the ride gets better as you speed up. After those runs, I do not feel my legs are beaten up, unlike my minimalist shoe experience.
With a 30mm stack height, the cushioning levels are not too high. The shoe works very well for distances up to 10k and can be stretched for distances up to HM, both for training and races. For longer distances, it is probably better to look out for a shoe with more cushioning.
Grip - The midsole foam, which is directly exposed in the outsole, does not show any sign of wear and tear until now and the roads that I run are not too smooth either. The rubber on the outsole, the PUMA Grip rubber, is also much more sparsely distributed, to minimize the weight( in contrast to the Velocity nitro). Even without the "Puma grip" rubber not covering the entire outsole, the road grip remains solid on wetter roads.
Stability
Similar to the Velocity Nitro, Liberate Nitro also has a TPU plate inserted into the heel area that provides stability when the foot strikes the ground.
Fit and Comfort
The forefoot and midfoot parts are pretty flexible and do not have any particular stability constructs. You may feel a bit odd if you are used to stability shoes quite a bit.
The toe box is perfect, for those who do not have wide feet. The foot is securely held in place by the structure around the midfoot and there does not seem to be any sliding movement of the foot with respect to the shoe floor.
Overall, it gives a very cushiony feeling and feels very comfortable when one wears it. At the same time, it gives a good ground feel and can be related to minimalist shoe experiences.
The shoe is true to size.
Aesthetics
I own a fluorescent green colorway (the official name: Elektro Green-Puma Silver) which looks gorgeous and has a unique look I have not seen before in other shoes. The reflective Puma logo on the front and the reflectors on the back definitely help visibility in the dark.
Review Summary
PROS
Very light and works extremely well for executing intervals and tempo runs.
Decent cushioning from the Nitro foam makes it comfortable. The bounce from the responsive Nitro foam at higher efforts is evident.
Outsole has good traction and road grip.
Good stability aspects with TPU plate and heel bar.
CONS
No padding around the heel counter and the jutting of the heel counter may give some discomfort and possible chafing for some runners in the Achilles area.
No data on durability. Need to wait for a few hundred km more to check.
RECOMMENDATION
Liberate Nitro is highly recommended for tempo runs and speed intervals, and races up to half-marathon distances. It fills the gap in ultra-lightweight and well-cushioned trainers in the Indian market. For those training for longer distances, this makes a good rotation for speed work, and tempo effort runs.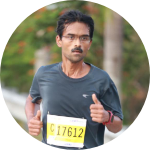 Inspired by his colleagues, Pavan has been into Running for the past 6 years. He likes to experiment, and has run barefoot, ran in minimalist shoes and has recently been trying cushioned shoes. He has been running about 3000 kms per year. He has run 2 marathons and several half-marathons.