Puma Deviate Nitro Review
Puma Deviate Nitro is a well cushioned, high stack neutral trainer with a carbon plate.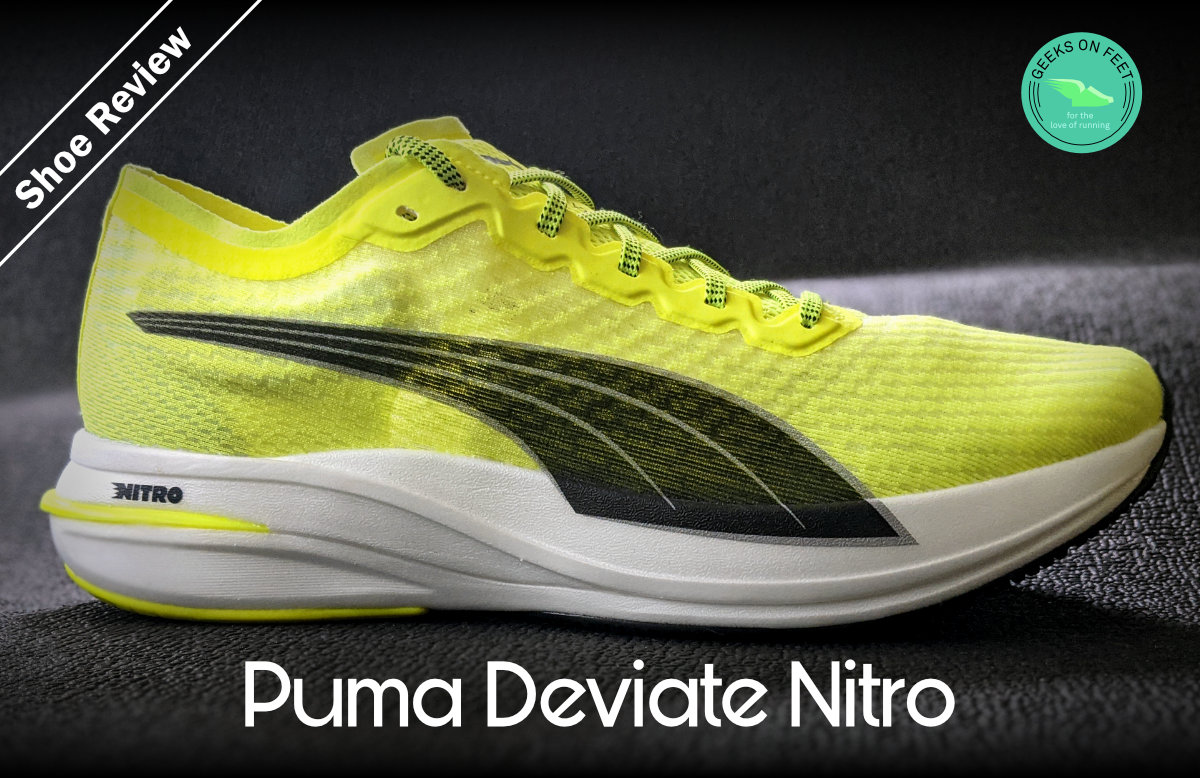 Molly Seidel not just won a medal at the Olympics but also millions of hearts. For one, we are all impressed by her performance, grit, and vulnerability. Wonder why a reference to Molly Seidel for a shoe review of Puma Deviate Nitro? That is because she ran in Puma Deviate Nitro Elite shoes at the Olympics, which is the close cousin of Deviate Nitro.
What makes up Puma Deviate Nitro?
Deviate Nitro is a carbon-plated neutral trainer cum racer, positioned just below the Deviate Nitro Elite in Puma's Nitro Running Shoe lineup. An affordable racer with a carbon plate, this shoe is a greate way to experience what it is like to run in carbon-plated shoes. The shoe is comparable to Nike's Zoom Fly, in terms of price, positioning, and performance.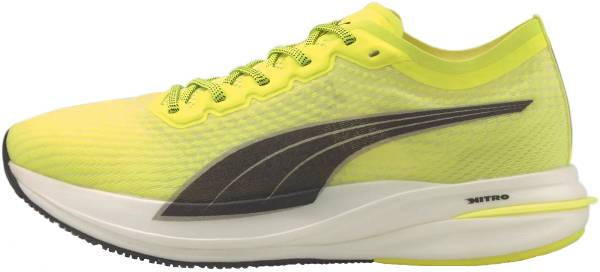 The midsole height at the heel is about 38 mm and is the highest in Nitro lineup. The heel-to-toe drop is about 10mm. At a weight of 258g (Men's UK 8) this shoe is not light when compared to other carbon plated racers.
Midsole
The shoe's midsole is made up of Nitrogen infused EVA foam called "Nitro". The midsole has two layers to accommodate the curved carbon plate called "Innoplate". The carbon plate is shaped such that it is supposed to maximize the energy return at push-off. The plate in the front is split at the big toe so that it can provide stability and propulsion independently to the big toe.
Upper
Upper uses mono-mesh fabric and is very breathable. The fabric is rich and gives good character to the shoe. The mesh holds the shape of the shoe very well.
Heel Heel is reinforced by a plastic heel counter, but there is no padding at the back. This is probably the cause of heel slippage as many reviews point out. There is a small TPU plate inserted below the heel to add stability, which uses reflective coating to improve night visibility.
Bottom sole
The bottom sole uses "Puma Grip", and is the best in class. It has plenty of rubber, and feels very robust, and offers solid grip on any surface. Bottom sole is cut such that you can see the carbon plate through it.
The shoe is constructed traditionally and is not a rocker. So if you are looking for traditionally constructed shoeswith a carbon plate, this is the one to consider.
Why did I consider this shoe?
VI
I was looking for a shoe to replace from my current running shoes (Reebok Floatride Run Panthea and Nike Pegasus 37). I prefer a shoe that is an all-rounder shoe that can be used for long runs, speed training, or easy runs. I've come across Deviate Nitro through a friend. The technology used in the shoe is very appealing, more importantly, the price point.
AR
I have used Nike ZoomFly for my last marathon, and very happy about it. For the new running season, I was looking for a shoe with a carbon plate and is constructed traditionally. While I like rockers and the snappy foot transition they offer, they feel tiring over a long run because of the adjustments I have to do. I have been using Velocity Nitro (check out the review) and I really liked the Nitro foam. So buying Deviate Nitro with Nitro foam is an easy decision. The other factor that favored is the price of Deviate Nitro. If you look hard enough you could find it under 10,000.
Ride In Deviate Nitro
VI
I have run about 600+ kilometers already in this shoe. Used it for all kinds of runs in my training, which averages about 100+km a week. My runs include long runs, easy runs, and interval runs. While Deviate Nitro worked well for all kinds of runs, I liked it best for my speed training that includes long intervals and tempo runs.
Innoplate (carbon plate used by Deviate Nitro) as advertised by Puma, gives that extra push which helps to maintain the faster paces over longer distances. Nitrogen infused cushion is really comfortable, and post-run soreness is less compared to Nike Pegasus 37.
AR
I have run about 120km in the shoe so far. I have mostly used it for long runs, tempo runs, and recovery runs. The weight of the shoe is such that I didn't use it much for shorter interval runs.
Long Runs If you are not used to high-stack shoes, stepping into a shoe of 38mm stack can be unsettling at first. It can feel unstable when you run. But Puma has done an good job in offering stability despite the high stack. The cushioning is firm (not as firm as Nike React foam, but comes close to it), and the carbon plate adds some more stability. Long runs feel comfortable, and the only complaint is it is hard to run at an easy pace in these shoes. This is not necessarily good, when you want to slow down and run easy towards the latter kilometers of your long run. The shoe feels harsh, and make it hard to run easy.
Tempo Runs This shoe is really made for moderate effort and tempo effort runs. It has an excellent bounce that makes you to put your best for such runs. It's hard to resist the bounce and get quicker.
Speed Intervals While the shoe is bouncy, the weight of the shoe makes it hard to use it for speed work. It is not as snappy compared to low-profile shoes. Lack of flexibility in the midsole makes it harder to transition the stride and push-off from the ground. I prefer a low-profile Liberate Nitro to Deviate Nitro any day.
Fit & Comfort
VI
The fit of the shoe is excellent, and I use the same size as with Nike, and Reebok. The forefoot is comfortable, and the toe box fits nicely.
As this is my first carbon-plated shoe, It took me some time to get used to the ride. I found the shoe not so comfortable in the initial days. However, post 100kms is when I got comfortable and really started liking the shoe.
AR
I use UK 10 normally and the Deviate Nitro is true to size and fits perfectly. If you've used Nike, Asics, or Saucony earlier, same size in Puma Deviate Nitro will probably fit well. The shoe probably needs a few kilometers to get used, especially because of the stack height and somewhat harsher bounce.
I prefer a bigger toe room, and the shape of the shoe offers a very good room to wiggle the toes and helps with toe flexion.
Because of the higher stack and carbon plate, the shoe is not something you can say is flexible. That makes the transitions harder and can put extra stress on your Achilles, especially if your ankle flexion is not that great.
Heel slippage is also an issue. While it didn't bother me much, few of the runners that I know have complained about it. Consider using the last eyelet in case you have heel slippage. I also would have preferred some padding at the heel for those longer runs.
Stability
AR
My foot pronation is in the typical range, with Deviate Nitro, I have no problems adapting to the shoe. The stability offered is good. However, because of the high stack height, running on uneven surfaces can get tricky. It is very easy to twist your ankle on roads that you find these days in Bangalore.
Road Grip
VI
This shoe has excellent traction. I have tested it on various terrains including tarred roads, trails, loose sand, and muddy roads. It handles the corners and turns very well, makes you feel run confidently no matter what.
AR
Like other Nitro shoes that use Puma Grip, this shoe offers exceptional road grip. I could use it on any surface, wet rainy roads, and the shoe just aces it. Perfectly fit for Indian roads.
Aesthetics
AR
The colorway that I have (Green Glare) is the best that I have liked so far. Upper fabric adds further class to the shoe. Every part of the shoe feels very premium; textured laces, and reinforced eyelets, reflective makers, and the aggressive looking Puma stripes.
Review Summary
PROS
Excellent bounce and medium-soft cushion make it a good shoe for training longer distances, tempo runs, and even for speed training.
Very affordable among the carbon plated trainers.
An excellent roadgrip that can ace any kind of surface.
CONS
Lack of flexibility in the midsole makes it harder to transition at easy paces.
Heel slippage can be an issue for some runners.
It will take a bit longer to get used to the shoe and to feel comfortble
The weight of the shoe is on the higher side, which makes it particularly not suitable for races, compared to other super shoes
RECOMMENDATION
Puma Deviate Nitro is a reasonably priced carbon plated and high-stack shoe. It is well construcuted, and is recommended as a race trainer to runners training for distances up to marathon.

Vineet is a techie, and passionate about running. He has a marathon persoal best of 3h:30m.

Aravind is a techie, running geek, and a marathoner. He is a CrossFit Level 1 Trainer. He loves all things technology and technology in running, with special interest in running form analysis.