Puma Velocity Nitro Review
A comfortable and versatile daily trainer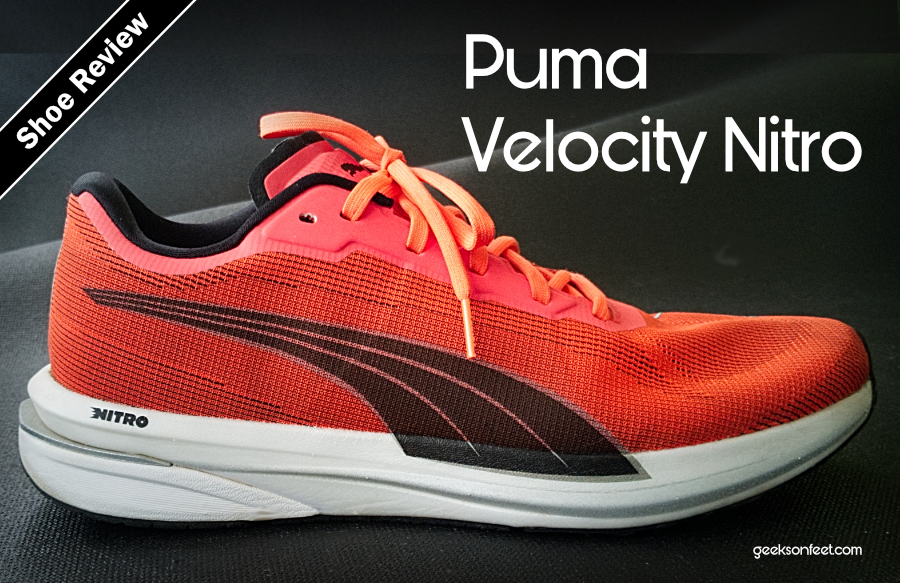 This review is for the first edition of the shoe. The most recent edition, Velocity Nitro 2's review is here (https://shoegeeks.in/review/puma-velocitynitro2-005003002/)
I have been a long-time user of Puma Running Shoes. Really loved running in various versions of Faas 500, and Faas 300. They were very durable, value for money, and most importantly are available in every Puma store in India. However, Puma's running shoes over the last few years such as NetFit, Hybrid have not been very exciting in terms of innovation. Puma's competition has lead the innovation with carbon plates, rocker bottoms, high stack shoes, PEBA midsoles and more. The most recent shoes that I have used from Puma's stable were - Speed 300 and Hybrid Runner. Speed 300 with Proplate (TPU plate in the midsole) is interesting but nowhere close to other shoes with similar plates such as Asics GlideRide or Nike Air Zoom Tempo Next%. Puma Hybrid Runner did not suit me well. Those are clunky and heavy. I had almost dropped Puma my running shoe shopping, if not for the recent launch of the Nitro line-up. The Nitro line-up has rekindled my interest in Puma's running shoe line-up.
Puma's Nitro Line-up
The Nitro line-up included 4 shoes, Deviate Nitro (Regular and Elite versions), Velocity Nitro, Liberate Nitro, Eternity Nitro. Each of these shoes come with their own uniqueness. Nitro Foam uses a new manufacturing process and infuses Nitrogen into EVA foam, which makes it light and bouncy. Nitro foam has got very good feedback from the running community. Velocity Nitro and Deviate Nitro has scores of 91 and 90 on shoe review aggregator RunRepeat.com. Kudos to Puma for launching the Nitro line-up at the same time as their global launch. Very rarely we see Shoe companies launch their latest shoes in India coinciding with their global launch.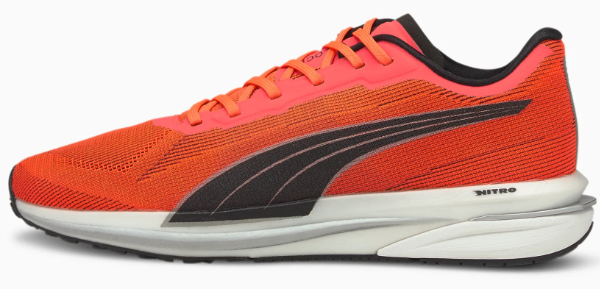 What makes up Velocity Nitro
Velocity Nitro, as the name suggests uses Nitro foam for the midsole. The midsole is made up of two layers of foam, the top layer is the Nitro foam (nitrogen-infused EVA foam), and there is a thin second layer made up of ProfoamLite foam(also an EVA based foam but is more firm). ProfoamLite was introduced last year with Puma's UltraRide shoe. The outsole uses new PUMAGRIP rubber.
The upper is an engineered mesh with two layers. The outer layer uses a breathable material and gives colour to the shoe. The layer beneath is more structured and seems to give shape to the shoe and its toe box. The tongue is attached below it with a much smoother fabric. The heel is supported by TPU based heel counter and it is solid. The heel collar has ample cushioning to make it comfortable. The shoe also uses a different last for the women's edition, so women runners probably have a more comfortable fit.
Why am I excited
Puma positions Velocity Nitro as a daily trainer that can be used for speed work, long runs, tempo runs, or easy runs, an all-rounder. I like the Nike Pegasus line-up of shoes, which are my daily trainers ever since Pegasus 33. However, I didn't like Nike's recent change in direction with Pegasus 37. I have been looking for an alternative daily trainer. I was also hoping it could even fit in as a replacement for Pegasus Turbo, given "Velocity" in its title. Priced at Rs.10,999, with several deals on offer and it is an easy decision for me to pick one.
Running in Velocity Nitro
I ran in them for easy runs, speed workouts, long runs, and some tempo workouts. As a daily trainer, the shoe handled all these runs reasonably well. It is comfortable, bouncy, and has speed when needed.
Easy Runs
My first run was an easy 10k run. My first impression of the shoe is it is extremely comfortable. The fit was perfect, the midsole cushioning is extremely good, and the ride was smooth. That gave me hope that it could be a good Pegasus turbo replacement for speed work. The shoe felt natural and no break-in was needed.
Tempo Runs
Next up was a 4x 1mile tempo interval run. The first rep wasn't that great. The cushioning was a bit too much and interfered with the run. The responsiveness was not that great. However, as I progressed, it got better. The cushioning hardened a bit and the midsole got bouncier and responsive and helped with the speed. Overall I felt the cushioning is good, and there is decent bounce and energy return, but it is no comparison to Pegasus Turbo.
Speed Work
Later I tried it for 4x 400m interval workout as well as 4x 200m. The weight of the shoe and slight mushiness in the midsole didn't lend it very well for speed intervals. I wouldn't recommend it for speed work. I prefer lighter and less cushioned shoes for speed intervals.
Long Runs
Two weeks after I first used it, I wore it for a long run (easy pace). The shoe handled the distance very well. As the kilometers passed by the cushioning ensure the fatigue is at bay. A perfectly fit toe box made it very comfortable for the forefoot. The breathability of the shoe is excellent as well. Post-run recovery is better than other shoes that I normally use.
Road Grip
Indian roads can be very tricky and in my tests is how it handled the different terrains. Summer rains in Bangalore allowed me to try it on wet roads. Roads laden with sand, construction debris are very common too. The grip and traction are good and gives a lot of confidence. It could handle speed intervals on sandy roads with no problems.
Fit and Comfort
I have clocked about 130km of mileage so far. It is one of the most comfortable shoes that I have used so far. The inside of the shoe is smooth, and I could even run with the shoe without the sock liner. I like the forefoot to be roomy, and it is perfect. Velocity Nitro got the laces right, and they stay in place and don't slip. The shoe is true to its size. If you are using Nike or Asics it is almost the same size.
Stability
Velocity Nitro is a neutral shoe. There are no features that interfere with natural pronation. I felt the shoe is very stable for typical neutral daily training (as good as Pegasus 35 / 36). TPU heel counter gives structure to the shoe and probably helps with stability. The dual-layered midsole also seems to help the stability.
Aesthetics
While it can be subjective, I liked the looks of the shoe. The fluorescent orange colorway really looks nice and bright for road running. The reflective Puma logo in the front, and also the reflective elements behind the heel counter are well placed. Visibility spoiler inserted in between the two layers of the midsole and wrapped around the heel is very well thought out. Shoelaces are very easy to operate. Tongue with Velocity Nitro written adds a nice aesthetic touch.
Review Summary
PROS
A well-rounded daily trainer can handle any type of run.
The responsive midsole can help with speed during tempo runs, except for speed intervals.
Excellent cushioning and works very well for long runs, and recovery runs.
The outsole has good traction on the road and works well with Indian roads.
Good stability for a neutral trainer.
Smoothly constructed inside makes it easy to break-in.
CONS
Slightly heavier for race day or speed/interval work.
Cushioning is a bit mushy at the beginning of the run.
Upper fabric collects dust easily, however, it is easy to clean.
RECOMMENDATION
Recommended as a daily trainer handling tempo runs, easy runs, and long runs.

Suggested rotation:
Speed work - A slightly less cushioned shoe as Puma Speed 300 Racer 2 or Asics Hyper Speed
Racing - Puma Deviate Nitro or Nike VaporFly Next%

Aravind is a techie, running geek, and a marathoner. He is a CrossFit Level 1 Trainer. He loves all things technology and technology in running, with special interest in running form analysis.