Hoka Carbon X2 Review
Carbon plated endurance racer for marathon distances and beyond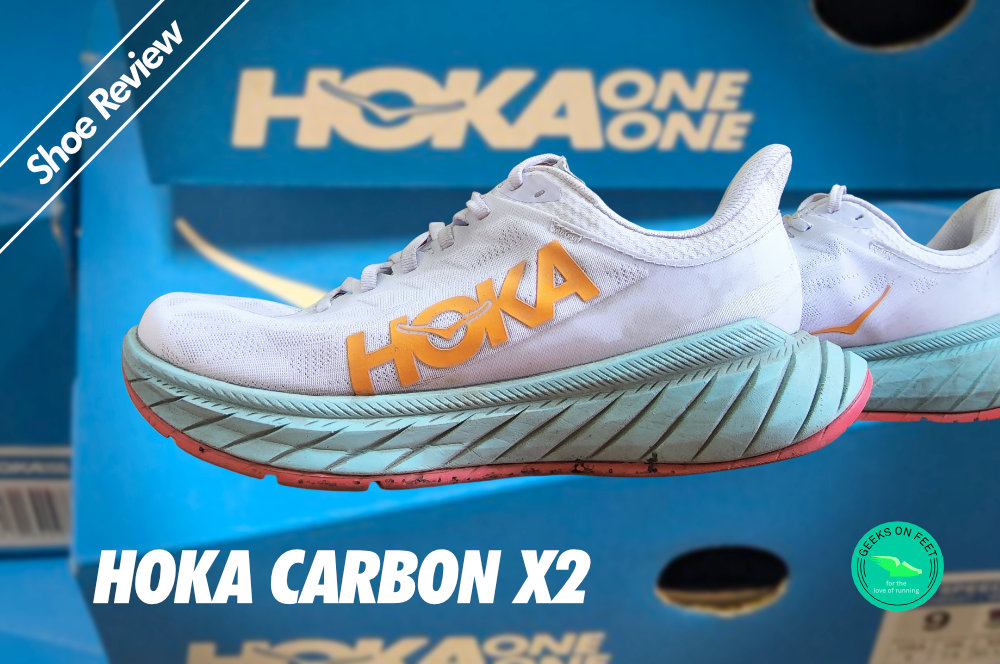 Since its launch in India this January, Hoka has already made its presence felt in the Indian running community. Hoka didn't hold anything back, and ensured all their best shoes are available in India. That coupled with a good pricing strategy, content-rich marketing, and community engagement via events, is a promising start. Hoka has made both their carbon-plated shoes available in India. Hoka Carbon X2 and Hoka Rocket X (which we have reviewed here).
Hoka Carbon X2 is available for the Indian market on the Tata Cliq website. When I first saw images of the Carbon X2 online, I immediately took a liking to its new design with the extended, exaggerated heel at the back. At first look, the shoe screams it is an endurance racer. Its bold overlays, cutouts, rocker shape, and flared heels say it is a racer, while the midsole cushioning says it is all about endurance.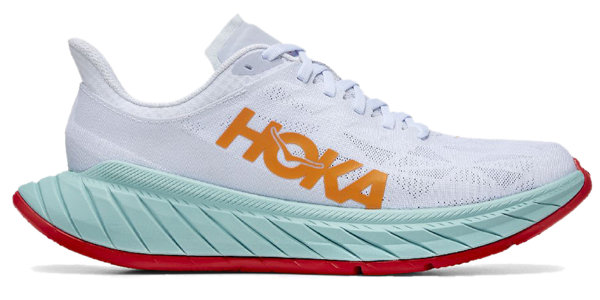 What makes up Carbon X2?
A stack height of 32mm, puts Carbon X2 in a medium profile category. Weight of 247g (men)/221g (women) makes it well suited for endurance running while offering plenty of comfort.
Midsole
Carbon X2's midsole like its cousin Rocket X is made of Compression-Molded EVA foam (CMEVA). However, it is a very different shoe. It has a stack height of 32mm (30mm for women) at the heel and 27mm (25mm for women) at the forefoot with a 5mm heel-to-toe drop. The midsole has two layers of foam between which the carbon plate is placed. The top layer is softer, while the bottom layer is thinner and firmer. The midsole profile is much softer when compared to Rocket X.
The carbon plate is much closer to the ground and has very little curvature compared to super shoes like VaporFly. This is the reason why Carbon X2 doesn't have the springboard effect but primarily helps the transition from mid-foot to toe-off transition.
Upper
is made of a single layer perforated engineered mesh. Added synthetic and reflective panels give a nice aesthetic to the shoe. The tongue has no padding, while the heel is very well padded.
Outsole
The bottom layer of the midsole (foam below the carbon plate) acts as the outsole. Not using a rubber outsole is an interesting design decision. The bottom layer is made of firmer EVA foam. EVA is not as good as rubber when it comes to traction and durability.
The base of the outsole is very wide, which adds to the stability of the shoe. Able to see the carbon plate through the cutouts in the outsole is a nice touch.
Why did I consider this shoe?
I was looking for a carbon-plated trainer for speed training, and faster long runs. Hoka Carbon X2 is a carbon-plated racer with attractive pricing. Its popularity among many elite athletes made it a safe choice for the purpose I was looking for.
Ride In Carbon X2
I have run about 100 km. This includes speed intervals, tempo runs, long runs, and easy runs too.
Speed Run - The shoe felt great during the workout session. The ride felt smooth and efficient because of the carbon plate; however, it does not give explosive bounce as compared to other carbon plate racing shoes on the market.
Tempo Run - Comfortable Tempo runs with great shoe response. The midsole gives a cushioned landing. Carbon X2 has a more natural feel to it.
Long Run - My farthest run was 34 km and my performance on that run was excellent. It is a more stable shoe that can take you farther. I felt it was a good balance between cushioning and responsiveness while my legs still felt fresh at the end of my run.
This is why the Carbon X2 is better suited to longer distances. During the long runs, it is smooth, efficient, and energy-saving. Stability in the Carbon X 2 is excellent thanks to its wide midsole base, so it is one of the most stable carbon plated shoes in the market.
If I have to choose a shoe to run an Ultra distance that is beyond a marathon, the Carbon X 2 would be my first choice.
Fit & Comfort
The dual foam midsole of the Carbon X2 is noticeably softer and wide enough. It's the most comfortable shoe in the market that I have used so far. The thin single-layer mesh upper is highly breathable and has a comfortable fit. The midsole of the Carbon X2 is noticeably softer and wide enough.
When it comes to sizing, my recommendation would be to go one size down as the length of the shoe is slightly long. The shoe comes with long laces which you need to carefully tie-up.
Stability
Carbon X2 is the most comfortable and stable shoe in the carbon plate shoe market. The thicker foam results in a higher level of cushioning comfort. A firmer base also gives the Carbon X better stability.
Road Grip
The grip isn't bad on dry roads. But the foam outsole is unsuitable for slushy, damp, or dusty surfaces. Initial wear and tear happen quickly, so durability is a question.
Aesthetics
For Aesthetics reasons I chose white and blue which is not a smart choice for Indian roads, however, the positive side is that it is easily visible in the dark. It also has a large reflective panel on its flap as well as the last two eyelets – this makes the upper part very visible during the dark. The shoe can be easily put on and off with great heal support.
Review Summary
PROS
Wide midsole base with a stable ride
Meta-Rocker provides a smooth, efficient ride
Most affordable Carbon plate shoe in the market
Great shoe for an ultra-distance race.
CONS
Less Energy return as compared to other Carbon plate super shoes
Slightly on the heavier side for a racer
RECOMMENDATION
It's an endurance racing shoe that marries a firmly cushioned midsole with a carbon fiber plate, and the result is a fast ride that isn't harsh on the feet.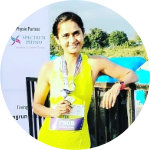 Vandana, is an IT Professional. Running and fitness are her passion. She won the 2021 Bengaluru Marathon across all age categories and qualified for Boston Marathon with a healthy margin.