Asics EvoRide 2 Review
A well-cushioned lightweight shoe for speedier and energy-efficient runs, Asics EvoRide 2 can be the horse to help you clock your personal best.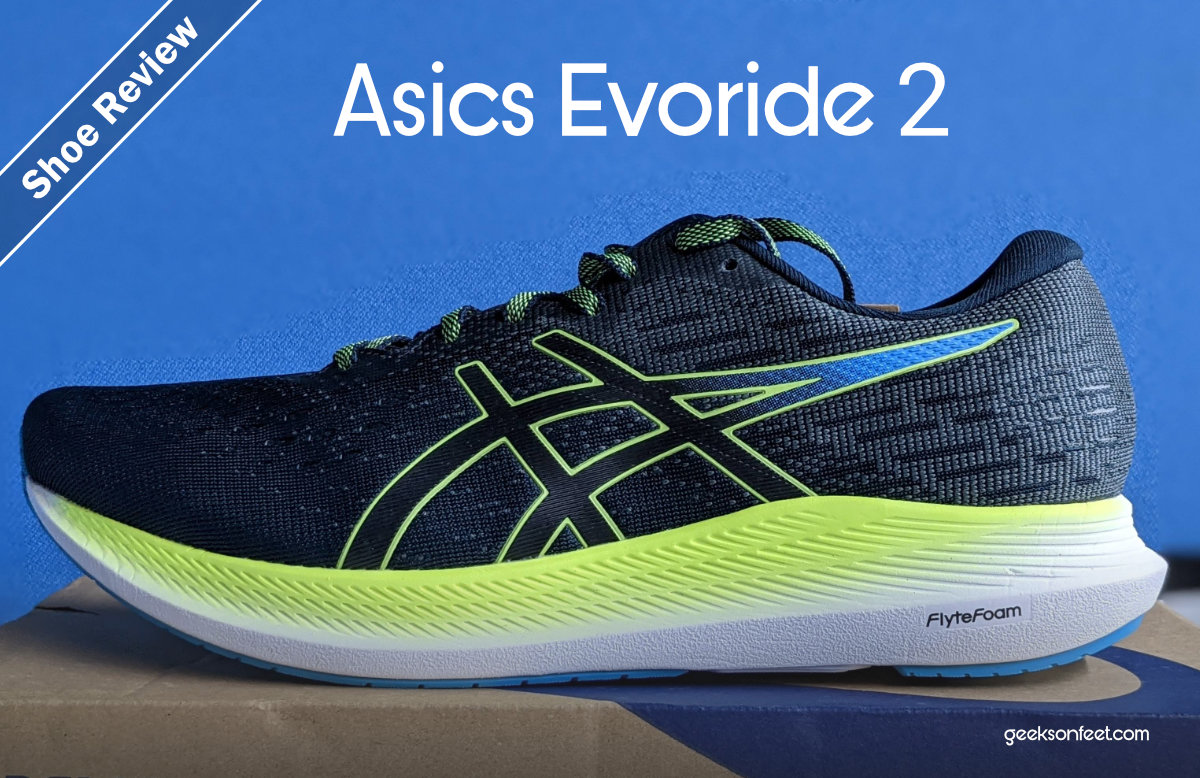 In 2019, Asics decided to come out of its traditional approach and prove a point in creating more energy-efficient shoes in competitive category for a reasonable price. Hence came the "Ride" series, starting from MetaRide, followed by GlideRide and the last but the most economical launch was the EvoRide.
Although I'm an Asics fanboy, training in the second consecutive shoe from the brand, stay guaranteed for a neutral review.
What makes up Asics EvoRide 2?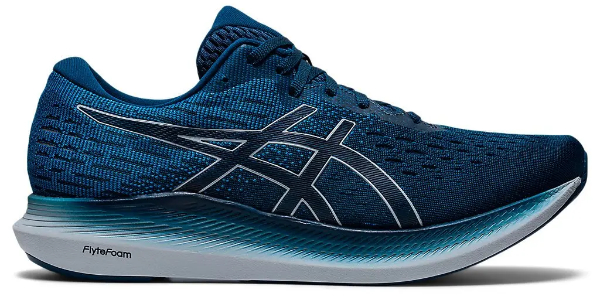 The Asics Evoride 2 is a neutral lightweight road running shoe. Although it could be tagged as a daily trainer, it is well suited for speedier workouts and mid-to-long runs.
Midsole
The speed comes from its rocker design (Asics calls it Guidesole) which propels you forward with less effort. The Guidesole Technology here Asics's fancy way of calling a rocker design, meant to offer a smooth transition through your ride.
The curved 5mm drop one-piece midsole, although looks thick, is made of lower density FlyteFoam, which makes the shoe lighter and gives a softer feeling underfoot. Flytefoam is proprietary midsole technology from Asics. Asics claims Flytefoam based midsoles are 55% lighter compared to standard EVA based midsoles, and also offer better responsiveness.
Stack Height
With a height of 34mm at the heel and 29mm at the toe, it offers 5mm heel-to-toe drop, which probably is best suited for mid-foot and fore-foot strike runners. With 34mm stack height it offers decent cushioning for medium-long & long runs.
Weight
At 238g (in US size 9) it is on the lower side of weight distribution for cushioned neutral daily trainers. Comparable trainers in the same weight and cushioning are Saucony Axon & Ride, Nike AirZoom Winflo, and Adidas Solarglide.
Upper
Upper is made of engineered mesh with multi-directional stretch for comfort and features many holes to make it more breathable. The Evoride 2 features a traditional lacing system with flat laces which goes well with the tongue to give a good lock. The heel counter is also sufficiently padded too.
Outsole
The outsole of the Evoride 2 has enough rubber to protect the heel and toe part of the midsole, while the rest of the midsole remains exposed. This would have been a design decision to keep the weight of the shoe on the lower side while keeping the durability in check like a classic Asics trainer.
The Evoide 2 currently priced at ₹9,999 (~₹7,999 in Amazon and Flipkart) on the Asics India website, might be cheaper and lighter among the ride series from Asics, faces stiff competition from Saucony Axon, which features a similar design and Nike Pegasus 38, one of the best running shoe series.
Why did I consider this shoe?
The first edition of the Evoride, considering it was the cheapest one of all, was always in my cart but never really took off to the payment page. Perhaps I felt it didn't look as sturdy as others from the series, but that was not the case for the Evoride 2. The festive season deals were of a double bonanza for what otherwise is relatively highly-priced. Compared to its predecessor which we couldn't test and hence can't compare, Evoride 2 reportedly features an overall revamp of upper, midsole and outsole.
Ride In EvoRide 2
From about clocking in approx 50kms, I can feel the propelling feel right from the time you tie up your laces. This is a fast shoe indeed!
The Evoide 2 takes a top spot and comes true to its USP when it comes to the ride. All the fancier technology in the specification does come true right from the time you are on your feet in the Evoride 2. The rocker design propels you forward even when you are standing. The first time I ran on these, meant to be a breakout run, it was a struggle for me to hold on to the pace of 6:00 min/km. My landing is noticeably midfoot, I could hit paces faster than 5:30 min/km very comfortably.
The next run on these was on a race, the first on-road race around Mumbai since the pandemic. As much as I did not treat the run as a race, considering it was a rolling course, 10K PB was still comfortably achieved.
The longest run done in the Evoride 2 was 18km so far, this is where I felt my legs were still fresh and was calling out to run more. Since the long run, I have also attempted speed intervals and tempo runs wearing this, and Evoride 2 are indeed made for speedier workouts.
Overall, the Evoride 2 helps you pace up your speed workouts and conserve energy during your long runs. As much as the Evoride 2 feels like a Half Marathon or a 25K shoe, I won't hesitate to take them for a marathon distance trusting the cushioning and the technology in the midsole. In contrast, Asics Glideride 2, meant for distances such as marathons, are both on the costlier and heavier side as compared to Evoride 2.
Fit & Comfort
'Asics and Fit' do not always go hand in hand, but surprisingly that's not the case with the Evoride 2. Although my shoe size, in general, is UK 7 (US 8), I had to downgrade to UK 6 for my previous trainer, Asics Dynaflyte 4. Although I was very sceptical while ordering UK 7 here, but boom, it fits true to size both in terms of length and width. It's sturdy and you might have to loosen up the laces all the way till toe to put it on every time, but once locked, it hugs well and is pretty comfortable. The toe box is neither broad nor is narrow, and as someone with narrow feet, it is very comfortable.
Breathability
The upper is where you might start to feel a love and hate relationship with the Evoride 2. You would not feel any different if you have used any of the Asics shoes before, but they are generously padded more than the Nike Pegasus series for good reasons. The tongue is also padded a little more than expected, and this is where things get preferential. For someone who appreciated Pegasus 35 for the little overly padded tongue, this one comes as a blessing. While Asics genuinely made an attempt to make it more breathable, a lot of padding in the upper, tongue and heel counter makes it still run warm.
Stability
Though it is a neutral trainer, the sturdiness of the midsole offers a pretty stable ride.
Road Grip
From about clocking in approx 50kms, the rubber has barely seen any wide wear and tear. While I couldn't test it on a wet surface since we have entered (Mumbai's) winter, the rubber of the outsole barely has any grip to hold you through your stride. You might have to be extra cautious while passing through the water stations in your upcoming races. Otherwise, a sufficiently thought-out sole for running on dry surfaces.
If not for the Asics fanboy, Saucony Axon (check out our review), a similar shoe by Saucony could have been my go-to, for being both cost-effective and more breathable than the Evoride 2. Evoride series might launch its 3rd edition pretty soon considering its popularity, and I do not anticipate any major changes, hence EvoRide 2 will continue to be a good buy for the coming year too.
Review Summary
CONS
High priced to competition
RECOMMENDATION
Asics Evoride 2, although is a daily neutral trainer, it is well suited for speedy workouts like Speed Intervals, Tempo Runs and Fartlek Runs. You can also take it for your race-paced Long Runs since they are highly energy-efficient.
For someone looking to use this as a rotation shoe, you can use this for all your speedy runs and long runs up to half marathon distance, and pair it with Asics Novablast, Nike Pegasus 38 or Brooks Ghost 14 for your Easy, Long, & Recovery Runs, and occasionally swipe it for Long Runs.
If you are looking for a comparable shoe of a different make, you can consider Saucony Axon since it's competitively priced and is more breathable, much appreciated keeping in our mindset and warm weather.

Karthik (https://www.instagram.com/runkarthikrun) is a business analyst by profession and a long-time volunteer contributor to Wikipedia. Apart from his enthusiasm for running and photography, advancements in mobile & wearables technology are of utmost interest to him. He is co-founder of Mumbai-based Tilaknagar Running Club.