Adidas Adizero SL
A new 'Super Light' addition to Adizero line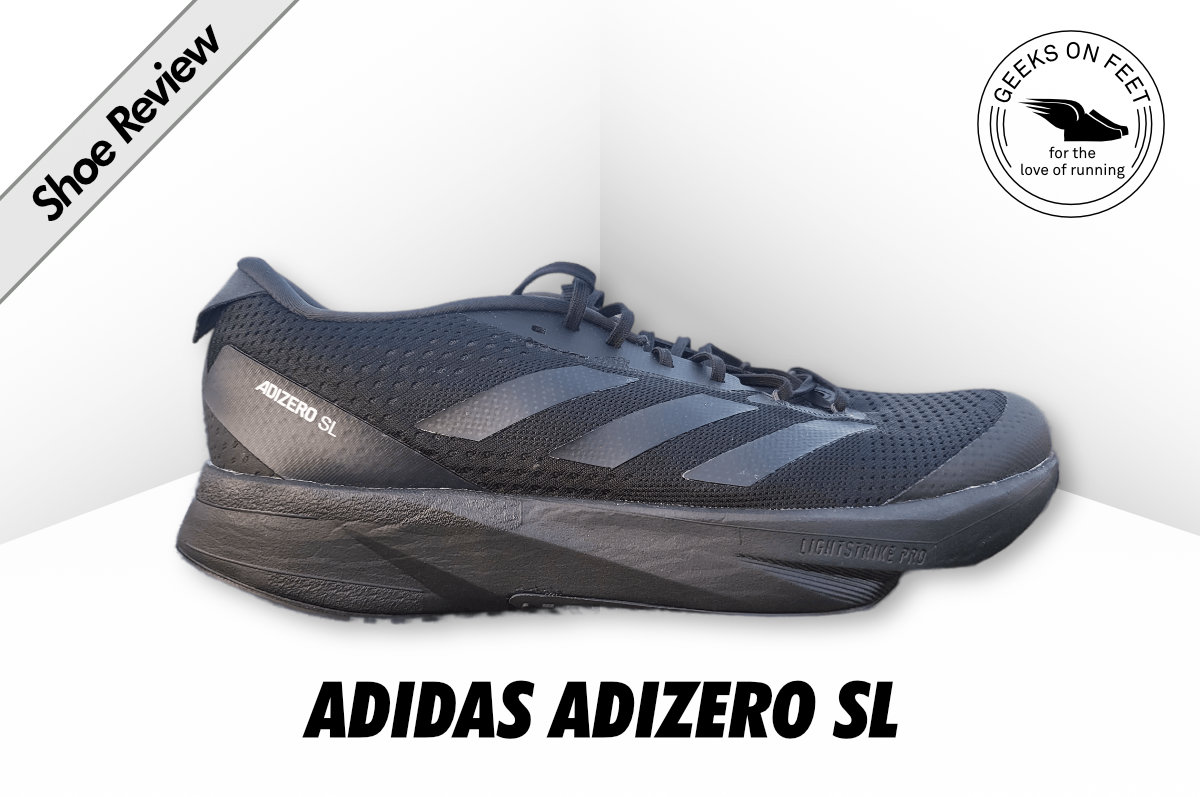 The Adidas Adizero line is known for speed and designed for elite endurance athletes. Some of the well known shoes in the Adizero line are, Adios Pro which is the premium racer, Takumi Sen which is racer for shorter distances, and the popular daily trainer Boston.
Adizero SL is the newest addition to this iconic line. Adidas has launched Adizero SL in India simultaneously with the global launch. The first edition of Adizero SL is positioned as an entry-level shoe with premium build. SL suffix stands for "Super Light". It aims to be a daily trainer with a bent towards speed training.
So how does it work as a daily trainer cum speed trainer?
Does it live-up to what one expect from Adizero?
So how does it compare to similar shoes from other brands such as Asics Novablast 3, Pume Deviate Nitro 2, Saucony Endorphin Speed 3, and Nike Zoom Fly 5? Btw, All of these are priced higher than Adizero SL, but often are on sale at a price cheaper or same as Adizero SL price.?
Read on.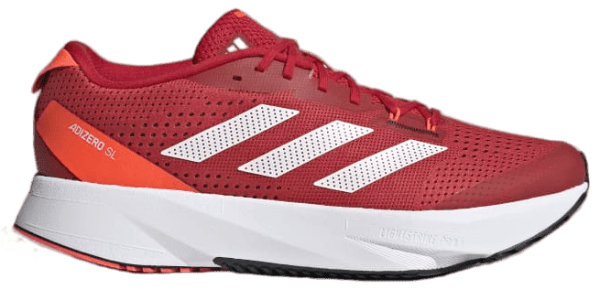 What makes up Adizero SL?
The Adizero SL has a traditional design (not a rocker with a high toe-drop or no extended heel bevel). The shoe has a stack height of 35mm, which is on the upper end of the spectrum, but inline with most premium daily trainers. Despite the suffix SL (Super Light), it weighs 244 grams for size UK 8, which is on the lower end, but not exactly the lightest. Here is a comparative view of popular daily trainers and their weights.
Midsole
The midsole features Lightstrike Pro foam embedded within a Lightstrike (EVA) cage. This is similar to Nike ZoomFly 5's construction, where the ZoomX foam is inside the React carrier. Decathlon's Kiprun KD 500 2 also has a similar construction. So the goal is to have the best of the both worlds, the bounce of Lightstrike Pro foam and a durable Lightstrike foam.
The shoe has a heel-to-toe drop of 10mm, so is best suited mid-foot and heel strikers. Based on the information available, the Lightstrike Pro foam is placed under the forefoot, which probably benefits forefoot/midfoot strikers better. That is the confusing part of the shoe design. So what type of foot strike is it targeted for?
Upper
The upper is a engineered mesh with good breathability features. It is well built and feels very durable. It is padded decently for comfort.
Heel
The heel is wider than the other shoes in the Adizero Line such as Takumi Sen, but is a bit narrow when compared to the majority of daily trainers. The heel is well-padded and offers excellent support.
Bottomsole
The bottom sole resembles the one we find in Boston 10 and Boston 11. But surprisingly it is not made of Continental rubber. That said, it looks and feels the same in terms of quality. A cut-out in the bottom sole, gives a peek into the LightStrike Pro foam layer.
Why did I buy it?
I was intrigued about the Adizero SL when it was announced during the Annual Running Event in December 2022. Having run in other shoes in the Adizero line such as Adios Pro and Takumi Sen, I liked the idea of an affordable entry level Adizero shoe. Kudos to Adidas for launching the shoe in India simultaneously with global launch. However, the price of Rs. 11,999 was a disappointment, and is not exactly affordable.
Ride Experience
I have run about 100 kilometers so far. I am currently in the first half of my marathon training block, and I have used the shoes for a variety of runs, including long runs (up to half-marathon distance), tempo runs, easy runs, and strides. First thing I noticed about the shoe is the snug fit it offers. There is no break-in. The shoe feels good on the feet, snug and nimble, and wants you to move fast.
Speed and Tempo runs was my primary reason for buying the shoe. The shoe has a decent bounce. The lighter weight does help for the tempo runs. However, the ride is not as fun when compared to other speed focused daily trainers such as Deviate Nitro / Endorphin Speed. Is it that lack of plate in Adizero SL?
For easy runs, the shoe works very well. It feels comfortable and doesn't come in your way.
The shoe is not as comfortable for long runs. I have ran two runs that are longer than half-marathon distance in this shoe. The firmness in cushioning is very evident after about 15kms. So this shoe is definitely not my first choice for long runs, and I wouldn't recommend it, especially if you are not very efficient with your stride.
The Lightstrike foam is placed under the forefoot, works best if you are a forefoot striker. I am not a forefoot striker, rather a midfoot striker and shift towards heel strike as I go longer. This probably the reason I couldn't get the LightStrike foam advantage. I have had better experience with dual layer designs in Deviate Nitro (softer foam above the harder foam).
Run Mechanics
As runners, the time between training cycles is the best time to reflect on the achievements of the past season and manifest our goals for the coming season. This is also the best time to work on strength, stability, and mobility. A visit to RunMechanics by GeeksOnFeet can help you with identifying kinks in your running form, building awareness of your running gait, and the issues in strength, stability & mobility which may be hindering your running.
RunMechanics offers the most comprehensive running form analysis with recommendations. Over 150 runners have taken our services, including beginners to the sub-3 marathoners.
You can visit our website to book an appointment for in-studio analysis or share videos of your running for online analysis.
Fit and Comfort
The shoe is a bit smaller for standard size UK 10. There is not much room in the toe-box when compared to other Adizero shoes that I ran in. I feel my big toe is crushed. If you prefer more room in the toe-box, this is not the shoe to go with. Forefoot is wide enough and is accommodating.
Engineered mesh upper, doesn't match those of the rest of the Adizero line. While it is comfortable and breathable, it does feel a bit warm, and I wouldn't prefer to use it on hotter days.
The tongue is not gusseted, but given how snug the shoe fits, it doesn't move around much. The tongue is also very well padded and adds to the comfort. The padding in the heel locks the foot very well, and I have no complaints here.
Stability
The shoe is a neutral trainer, and feels stable during the runs. When compared to racers in the Adizero Line such as Takumi Sen and Adios Pro, Adizero SL has the best stability.
Road Grip
The grip is decent on tarred roads, and have no problems finding the grip on corners. That said, I did have some trouble in finding the grip on roads with construction debris and sand, which is quite common in Bangalore.
Aesthetics & Ergonomics
I got my Adizero shoes in an all black colorway, and I love the way they look. The shoes can easily be dressed up as casual sneakers, making them perfect for everyday wear. I use them as my travel companion, wearing them to work while on the go, while doubling up as my running shoes. Although the all-black design tends to attract dust quickly, cleaning it is not too hard.
Review Summary
PROS
A daily trainer which can be used for faster running
Feels comfortable and premium
If you like snug and a firmer ride, this shoe offers one
Light weight daily trainer
CONS
Though it is most affordable in the Adizero line of shoes, it is not cheap when compared to equivalent daily trainers
Tighter when compared to other shoes
Lightstrike Pro in Lightstrike foam, didn't have the intended effect
Though the shoe is called SL, but it is not super light
RECOMMENDATION
As a daily trainer with a focus on speed training, the Adizero shoe offers a premium feel, similar to other Adizero shoes. Its firmness and lighter weight make it a great companion for Adizero Boston for fast-paced workouts. If you're in the market for an affordable shoe in the Adizero line, this is the one to consider. However, if you're looking for better value for your money, there are plenty of other options available. With the frequent sales in the Indian market, you could find a better shoe at a price more affordable than Adizero SL.

Aravind is a techie, running geek, and a marathoner. He is a CrossFit Level 1 Trainer. He loves all things technology and technology in running, with special interest in running form analysis.