Adidas Adizero Boston 10
Durable, and comfortable trainer for easy and long runs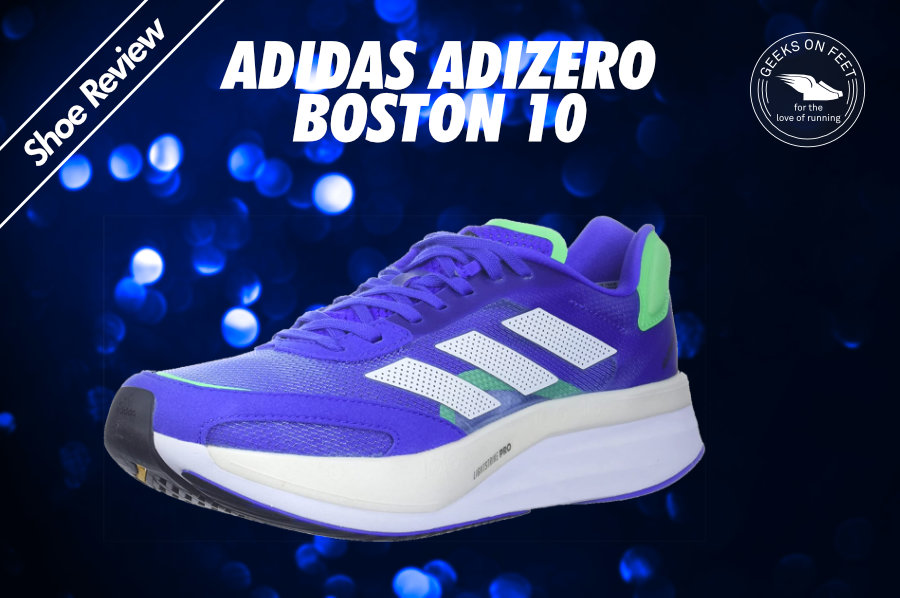 Adidas Adizero line of running shoes has been the mainstay of long-distance racing for more than a decade now. With time the Adizero line has been transforming itself, Adizero Boston 10 is an excellent example. Adizero Boston is known as a low-stack speed trainer which is fit enough to race. Boston 10 is still a speed trainer, but a completely different shoe.
Boston 10 has shed its' Boost foam powered midsole to a much better midsole partly made of LightStrike Pro foam. LightStike Pro is the premium foam that is also used in the Adidas flagship Adizero Adios Pro line of shoes. Boston 10 has also gained some more stack height to keep up with the competition.
So does the modern incarnation of Adizero Boston 10 live up to its expectation as a speed trainer?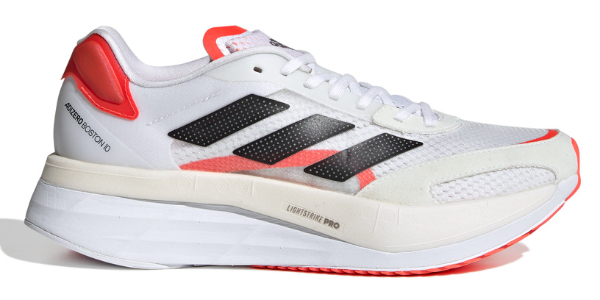 What makes up Adizero Boston 10?
First thing that one would notice about Adizero Boston 10 is its character. The shoe design proudly shows how various things were put to together to make it happen. With a weight of 290 grams (for Men UK 8) this shoe is anything but light.
Midsole
Adizero Boston 10 is a high stack shoe. The stack height at the heel is 39mm and 31mm under the forefoot, that is an 8mm drop. The midsole has 2 layers. The bottom layer is made of EVA foam and is pretty firm. The upper layer is the Lightstrike Pro, inherited from the Adios Pro, which provides a bit of a bounce.
There are 5 energy rods( these are not carbon rods, but rather made of glass fiber) placed under the forefoot, embedded between the two midsole foam layers. They are visible through the bottom sole. This shoe does not feature any carbon plate.
Upper
Adidas Boston 10 is designed to be the training counterpart of the racing shoe, Adidas Adizero Adios Pro2. They look pretty similar, but the similarities end there though.
The upper is a traditional engineered mesh that seems to be quite substantial and is well-padded. The gusseted tongue is pretty flat and thin and doesn't provide much padding.
The forefoot feels a bit narrow and may suit better those athletes who have narrower feet. The laces follow the standard pattern and there is nothing remarkable. The overall lockdown is pretty good and satisfactory.
Bottom Sole
The bottom is amply covered with continental rubber and provides excellent traction on any surface. The combination of the harder EVA foam and the continental rubber makes it very durable. But it can make noise when you run on harder surfaces.
Heel
The heel has a V-shaped cut-out. During the long runs, this ensures that there is no Achilles rubbing, and offers better comfort. The heel counter is very well padded and it feels very comfortable with absolutely no heel slippage.
Why did I consider this shoe?
I have been using Puma Velocity Nitro (the first version) as my daily trainer for my easy and long runs. It served me pretty well(~1600 km) all the while, but now it has neared its end of life. I wanted to buy a new daily trainer and I chanced upon a good discount for the Adidas Boston 10, on Adidas India website. Also, I wanted to try out Adidas as I do not have anything in the Adidas range so far.
Ride In Boston 10
I have ran about 380 km in the shoe so far. I have run Both short/easy and long/easy runs. At the outset, the ride feels heavy and clunky, and may not expect a smooth and cushiony transition. But that is not the case once you start running. The shoes are energy efficient, in the sense of energy return and one gets the desired paces for the effort that is put in. This is due to the combined effect of the rigid Light strike EVA foam and the energy rods under the forefoot.
However, the shoe is heavy and there is very little bounce during the ride, despite the interesting midsole construction. Lightstrike Pro, EVA combination is quite firm and doesn't work the best for faster workouts.
The energy rods seem to absorb the impact and store the impact energy during foot strike and return it back during toe-off, making the transition very efficient. I have experienced that, though the shoe feels heavy(305 grams for UK10), rigid and clunky, it is surprisingly efficient at moderate speeds(Marathon pace for e.g.). All these thanks to the energy rods and the Lightstrike Pro foam.
Fit & Comfort
The shoe fits TTS. It is a bit narrow in the forefoot though. Beyond the forefoot, the shoe has an excellent fit at midfoot and heel.
Stability
Though the stack is pretty high, it provides for a stable ride. The overall show structure is kind of rigid and strong and is therefore not wobbly, despite the higher stack. The shoe stabilizes well on flat surfaces. But my ankles have buckled a few times on uneven surfaces. Especially due to the cut-out section underfoot.
Road Grip
Perfect road grip. It rules like a king where Saucony Endorphin range of shoes have heavy slippage, especially on wet surfaces. Thanks to the generous rubber and the dense fiber layout type pattern underfoot.
Aesthetics
The shoe looks a good blend of modern and classic aesthetic. Whether one likes such aesthetic or not, it is definitely eye catchy. The shoe is quite easy to clean. Especially outsole has closely laid out rubber and ensures it doesn't pick up dirt much.
Review Summary
PROS
Very durable, and can put in long mileage
Decent cushioning from the LightStrike Pro foam makes it comfortable
Efficient and smooth transition from foot strike to toe-off
Outsole has excellent traction and road grip
Good lockdown on the midfoot
CONS
A bit narrow on the forefoot
A bit firm and makes quite some noise on concrete/asphalt surfaces
Heavy shoe, didn't suit well for tempo and faster paces
RECOMMENDATION
Adizero Adios Boston 10 is well suited for easy and moderate-paced runs( both short and long). If you are looking for a modern and durable shoe for the long mileage in your marathon training, this is a shoe to consider. If you plan to use Adios Pro / Adios Pro 2 as the racing shoe, this shoe is an excellent training partner.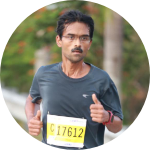 Inspired by his colleagues, Pavan has been into Running for the past 6 years. He likes to experiment, and has run barefoot, ran in minimalist shoes and has recently been trying cushioned shoes. He has been running about 3000 kms per year. He has run 2 marathons and several half-marathons.