Saucony Endorphin Speed 2 Review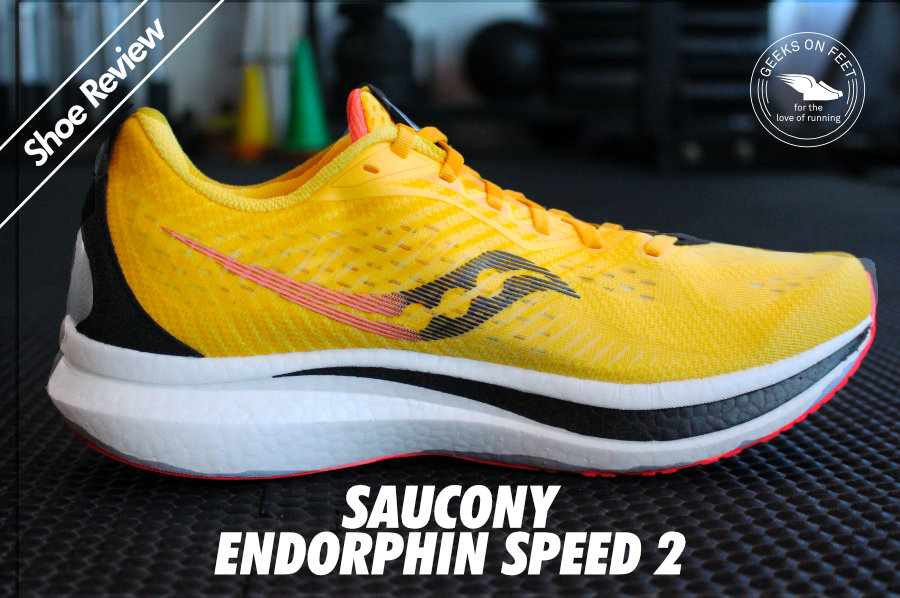 We all want to run fast, no matter where we are in the speed curve. Nothing can beat the endorphins that we derive from achieving our personal bests. Aptly named Saucony's Endorphin line is all about speed. Endorphin Pro and yet-to-be-released Endorphin Elite are premium racers with carbon plates, Endorphin Shift is a modern daily trainer, while the Endorphin Speed is the speed trainer.
If your understanding of the speed-trainer is the hard-to-run, minimally cushioned, and ground-hugging shoe, then be ready to change your perception. Saucony Endorphin Speed 2 is a very different speed trainer. It is a speed trainer that has the ethos of a modern rocker shoe but is versatile enough to be used for a marathon distance.
So what makes "Saucony Endorphin Speed 2" modern? How well does it serve its purpose as a speed trainer? Read through the review.
What makes up Endorphin Speed 2?
The endorphin line has unique looks; the curvy midsole accents, rocker geometry, fancy colorways, and a high stack clearly sets it apart from the rest of the crowd. Endorphin Speed 2 inherits all of the above. It is one of the few rocker geometry shoes that are designed for speed training. The other few I can think of are Hoka Rocket X and Asics Magic/Hyper Speed.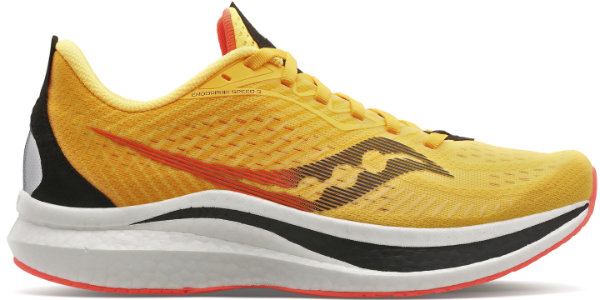 Speed 2 is an aggressive rocker with a high toe spring. Here is how aggressive the toe spring of Speed 2 looks when compared to Rocket X. The onset of the spring is much later than Hoka Rocket X, but it is at a much more aggressive angle. That is what makes Speed 2 more suitable for mid-foot and fore-foot strikers.
At about 260 grams (for UK 10), it is not exactly a lightweight shoe, when you compare it with other speed trainers. In fact, it is in between speed trainers and the versatile daily trainer category (such as Puma Velocity Nitro, and Nike Pegasus 39).
At 8mm drop, it is similar to other shoes in the Endorphin line, and with a stack height of of 35 mm, it gives plenty of cushioning to feel good during the run.
Midsole
Like its cousin Endorphin Pro, the midsole is made of PWRRUN PB, which is PEBA foam. PEBA foam is also used by other premium racers such as VaporFly Deviate Nitro Elite. Unlike Endorphin Pro, it doesn't have a carbon plate but has a nylon plate wedged inside the midsole.
Its softness measures around 25 HA on Shore Durometer, almost the same as Endorphin Pro 2. This is soft and in line with most modern foams. Here is a comparison of how it compares in softness with a few other speed trainers, racers, and daily trainers.
Upper
The upper is an engineered mono mesh, and it is thick and feels quite durable. Though it is thick, It has plenty of pores that make it breathable. The gusseted tongue has padding and reflective elements. The lacing is perfect; they lock down well and stay in place.
Heel
The heel fit is excellent and is way better when compared to other speed trainers. There is plenty of padding too, that makes the heel comfortable. The heel counter is stiff and offers good stability. It has an integrated, but thin pull tab design, which is not quite easy to use though. The heel also has reflective material on the back of the counter, which illuminates in the dark.
Bottom sole
The bottom sole is mostly exposed with rubber placed at strategic points. One could easily figure out why the traction is not great on surfaces other than tarred roads.
Why did I consider this shoe?
I am regular when it comes to speed training. I have used Puma Liberate Nitro, Hoka Rocket X, and New Balance Rebel V2 as my speed trainers. All of which I have loved, but all of them have their kinks. For example, Liberate Nitro feels it needs more cushioning. Rebel V2 is really unstable for me, not to mention the fragile upper. Also, none of these have PEBA foam, and I really wanted to experience what a PEBA-based speed trainer will be like.
Saucony Speed has been on my wish list for a while because of rave reviews of it. When Saucony India launched the second edition in India, I bought it as soon as it was available.
Ride Experience
I have run more than 100kms in this shoe. The first thing you feel in the shoe is how aggressive the toe spring is. You cannot miss that extra push as you transition to the toes at push-off. The shoe feels light, and the cushioning softness feels just right for a speed trainer. Though the durometer puts it as a softer shoe, in practice it is not. But this is good for a speed trainer, cushioning that is not too firm, and not too soft, makes it more versatile.
My first quality run in the shoe is a hard 20k, with two 7K tempo sections. The toe spring and bounce really made the shoe likable for speed training. The first 15km of the run was a breeze, and the shoe is extremely comfortable. It is beyond 15km when you start feeling that the midsole should have been softer.
In terms of bounce, it is less than what one can experience in Endorphin pro 2 or other carbon-plated racers. When compared to shoes such as Zoom Fly (1st edition) with nylon plates, and Adidas Takumi Sen 8 with Glass fiber rods, it feels on par, but definitely not better than them. Given the PEBA foam midsole, my expectation was that the bounce would be better. One shouldn't expect the soft cushiony, yet bouncy feel that other PEBA-based shoes offer.
I have also run shorter interval runs of 400m - 800m, and the shoe absolutely rocks. The bounce really becomes noticeable, when you run under 5 min/km.
Unlike the carbon plated racers, which can feel very harsh when running easy paces, this shoe can handle easy paces very well.
Fit and Comfort
The fit of the shoe is a bit snug compared to Endorphin Pro 2, and even Kinvara 12. This is a good thing as the snug fit helps feel more control of your feet when running fast on roads. The shoe has plenty of forefoot room like other Saucony shoes that I have run in the past and is very comfortable. The shoe didn't need any break-in time, and you settle right in.
Stability
Given this is a speed training shoe, this shoe has no stability features. While I have no issues with stability, the lateral part of the midsole crumbles under the weight while landing. I liked it that way, as I could naturally pronate. I have measured the pronation angles at RunMechanics.in studio, and the pronation angles are much higher than neutral trainers such as Puma Velocity Nitro. However, the pronation angles are comparable to racers like Endorphin Pro 2, and Adios Pro 2.
Road Grip
The road grip is good enough for tarred roads. It struggles a bit with wet roads and roads with loose sand. So Speed 2 is best used in tarred surfaces.
Aesthetics & Ergonomics
On aesthetics, this one has a lot of character. I bought the Vizigold colorway. Though I generally like muted colorways with black and gray shades, this is an exception. Surely, one of my favorites. The downside of the bright colorway however is it gets soiled quickly, a trade-off to live with, while owning the most lovely colorway.
PROS
Snug fit that makes you feel confident for speed runs and races
Aggressive rocker that propels you at toe-off
Good heel lock-down and feels stable
Very good bounce that only gets better at higher paces
Feels comfortable even at low paces, unlike the carbon plated racers
CONS
When compared to other speed trainers, it is a bit heavier despite using PEBAX foam.
Effect of nylon plate not as evident when compared to carbon plated racers
RECOMMENDATION
Endorphin Speed 2 is an excellent speed trainer that can also work as a racer, and at the same time can work fine for easy runs - A versatile speed trainer it is. Looking for a modern speed trainer, that can be used as a companion to a carbon plated racer, or alternatively can be used as a racer, it is a shoe to go with. Recommendation rotation in Saucony Line - Saucony Speed 2 for Tempo, speed training & daily runs, Triumph 19 for longer & easy runs, Endorphin Pro 2 for racing.

Aravind is a techie, running geek, and a marathoner. He is a CrossFit Level 1 Trainer. He loves all things technology and technology in running, with special interest in running form analysis.