Saucony Endorphin Pro 2 Review
26.2 mile Run review of the Saucony's Endorphin Pro 2 super shoe: How it rides, what kind of runs it works best, how it stacks up against the first edition, and the unit economics compared to other super-shoes in the market.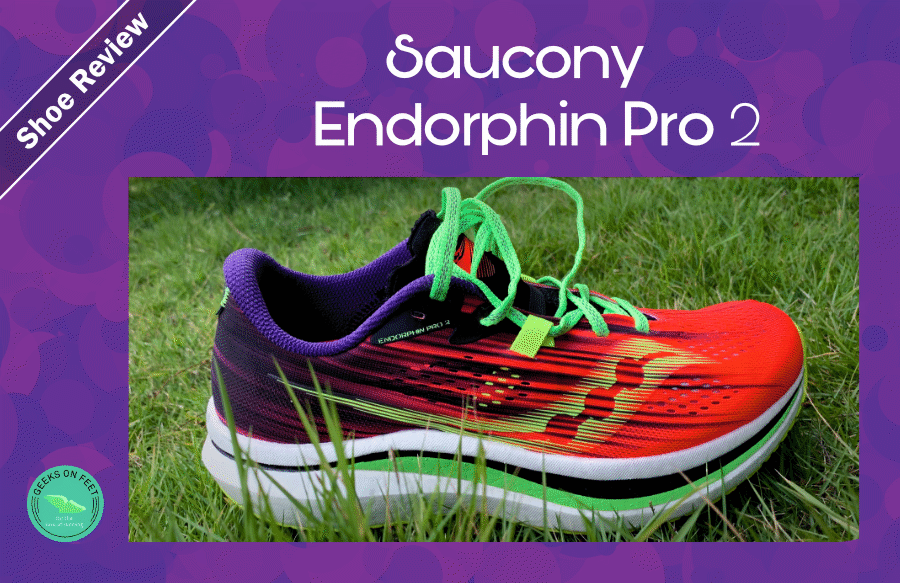 The second iteration of the Saucony Endorphin Pro was launched just a month back and kudos to Saucony India @sauconyindia for bringing it to India in such a short time.
"If it isn't broken, don't fix it!"
The Endorphin Pro 2 is pretty much similar to the first edition and I'm glad that they didn't tinker much with the shoe. The first edition received raving reviews as a genuine contender to Nike's Vaporfly and Alphafly. So it's no surprise that Saucony has stuck closely to their winning formula.
All the big-ticket items - their SPEEDROLL technology, ultralight PWRRUNPB midsole foam, carbon-plate, return, with only a few minor adaptations to the upper of the shoe.
The Endorphin line-up is Saucony's performance series that uses the SPEEDROLL technology. According to their website, "Speedroll tech is an advanced footwear geometry that gives you an effortless, always-forward feel"! In simple language, it is a rocker design that always gives the runner a forward lean and makes the transition (for heel or midfoot strikers) to forefoot more efficient.
PWRRRUNPB uses PEBAX, which is a lightweight, high-performance thermoplastic elastomer (TPE) that is known for its flexibility and energy return and is used by other super shoes for Nike (Zoom X Foam), Reebok (Floatride Plus Foam). Decathlon Kalenji Kiprun ultralight racer also has a PEBAX midsole. PEBAX is often said to be better than e-TPU or gas infused EVA foams.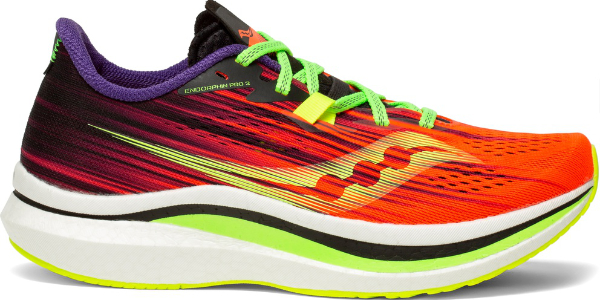 At 213 gms these aren't the lightest shoes I've used (Brooks Hyperion Tempo - 205 gms), but I can definitely live with an extra 10gms for a carbon plate.
The Formfit upper is quite snug in the forefoot, but a little loose at the heel, but this is not a deal-breaker. The Saucony Endorphin Speed 2 on the other hand comes with a heel counter, which gives a very good fit, and at 225 gms, it's just barely 10gms heavier!
Perhaps the biggest change, then, is a visual one – the race-flag colourway makes the Endorphin Pro 2 stand out from the crowd. However, we still don't have that colourway available in India as yet and what I have is a bright orange one.
Fast, Faster, Fastest…
Within the Endorphin line-up, the Endorphin Pro 2 is their lightest and fastest race day shoe. I would recommend them only for sub 5:00 min/km pace tempo runs and Races. One review mentioned that these were best used for a sub 7:00 min/mile pace! Now Speed is a very relative term and what is fast for me is slow for someone and vice versa.
There are a lot of reports online which mention that carbon plates mess with our natural gait and I would partially tend to agree with these. This is one of the reasons why most runners use them for race days and speed work. The aggressive ride would be quite uncomfortable at easy speeds (which is relative). And for people looking out for a slightly more versatile shoe, the Endorphin Speed 2 should fit the bill.
Ride Experience
As of now, I've done three workouts totalling about 26.2miles (40+ km) on these. The runs have been a mix of intervals (3:30 - 4:00 min/km), and threshold/tempo runs (4:30 - 5:00 min/km).
The aggressive ride of the shoe, both because of the carbon plate and their speed roll, makes it a little easier to run fast. But please note, it does not make one run fast. I can pick up these paces with a normal shoe as well, but the Endorphin Pro 2 makes my running a little more efficient. And this is also the reason why it's tough to run slow on these because the geometry of the shoe does not support slow easy runs. And in all these runs I've ended up doing all my cool down at a 5:00 pace (which is not very ideal). So I've just restricted them for runs at specific paces.
Another thing that I observed is that the shoe is stable at higher speeds and not so much at slower paces. This could be because of two reasons
The carbon plate gives the runner a good push forward and the aggressive speed roll keeps us darting forward.
At slower paces, the bounce in the shoes is quite high and the carbon plate gives it a trampoline effect.
The more I run in them, the more I feel better at controlling them. This could be because I'm technically breaking into the shoe or it could be more of a mental adjustment (like getting used to riding a superbike).
One more observation here is that the shoe feels the same throughout the run, even those harder final kilometers.
Why bother buying the Endorphin PRO 2 then?
The Feel
The ride is brilliant and second to none. It has to be experienced! The PWRRUN PB foam is really soft and the carbon plate compliments it well. The foam doesn't bottom out and at the same time, the plate gives a good forward push. Even with a stack height of 35.5mm in the heel and 27.5mm in the forefoot, the shoe is extremely stable and the forward roll makes running very efficient. The cushioning is good throughout the midsole and the forefoot is also well-cushioned.
The road grip on dry tar surfaces is fantastic, but I would be a little more cautious with wet surfaces.
Unit Economics
The Endorphin Pro 2 is priced at Rs.17990/- and Saucony India has been giving a 10% discount through their influencers which brings the price down to Rs.16190/-, which is pretty much equal to the price in USD ($200).
The other options in this category like Nike Vaporfly Next% 2 (Rs.19695), Nike Alphafly (Rs.22795), Brooks Hyperion Elite 2 (Rs.22999), Adidas Adizero Adios Pro 2 (Rs.21999), and Asics Metaspeed sky (Rs.21999) are priced at approximately (25 - 38)% over the Endorphin Pro 2!
This is where Unit economics kicks in. A typical running shoe lasts about 700 miles post which could be used as a gym / casual shoe. However, racing shoes with carbon plates have a large stack height, which makes them pretty uncomfortable for regular gym use or even casual walking. So the life of the shoe is pretty much the miles you can run in them, which is probably around (250 - 300)miles.
Based on the reports I've read, Endorphin Pro 2 can last around 400 miles (640 km). But even if it gives me a few more km over other race shoes, at a 25 - 38% price benefit I'm still spending much less per KM!
Shoe Rotation
Running shoes are quite expensive and it is imperative that we find the right balance in our shoe rotation. Else your shoe will just end up as one amongst others on the shoe rack. So here is how I use these shoes and the following is my current shoe rotation.
Endorphin Pro 2 - For speed work (Intervals - Threshold - Tempo runs and Time Trial/Racing).
Brooks Hyperion Tempo: For Tempo - Easy runs
Nike Infinity React 1: For Easy - Recovery Runs.
Review Summary
PROS
Efficient running (Speedroll)
Fantastic Breathable upper
CONS
Not the Lightest in its category
RECOMMENDATION
To conclude, the Endorphin PRO 2 is a fantastic race shoe and I think it's definitely a bang for one's buck. It is not perfect and has its share of misses, but then its Pros outweigh the Cons. I would definitely recommend them.

Rohan is a runner by chance and a shoe geek! He was into weight training and CrossFit when a friend nudged him to run a 5k with him every alternate day. This was around May 2018, and since that first 5k, he had completed around 6000kms and 1 Full Marathon (TMM 2020). You can follow Rohan on STRAVA (https://www.strava.com/athletes/31633127) and on Instagram (https://www.instagram.com/mathew.rohan/)