Puma Foreverrun Nitro Review
The stability trainer with a difference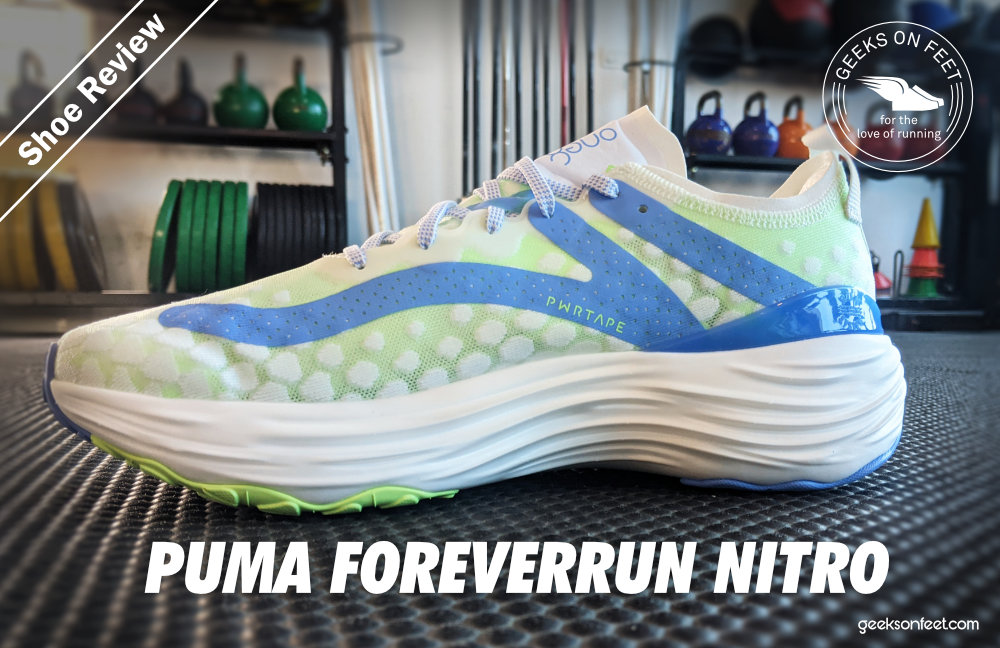 Puma, now known for its innovative Nitro shoes, which use Nitrogen infused foam among other innovations, had its first attempt at stability shoes with Eternity Nitro. However, it appeared to be a half-hearted attempt, which seemed like they simply incorporated the RunGuide technology (hard TPU material on the side of the heel, just above the midsole) into the popular Velocity Nitro daily trainer. Interestingly Eternity Nitro didn't see the edition 2 update yet.
Nonetheless, Puma's pursuit of stability didn't end there. Enter Foreverun Nitro, a fresh addition to the young yet well-established Nitro lineup. Foreverrun Nitro is Puma's sincere effort to bridge the stability shoe gap within the Nitro series. Unlike its sibling Eternity Nitro, Foreverun Nitro appears to be designed from scratch, taking into account the specific requirements of stability-seeking runners. Puma's designers have put a lot of focus on enhanced support and guidance.
So does it work as a stability shoe? What kind of runners or runs does it work best? Does it make a good contender for stability shoes against other well-established shoes such as Asics Gel Kayano and Saucony Guide or Saucony Omni?
When Puma reached out to me to test the shoe, I was more than glad to do it, as it is an extremely interesting shoe to run in. Thank you Puma for the pair. Other than sending the shoe, Puma marketing has no say in this review, and that has been explicitly communicated with Puma.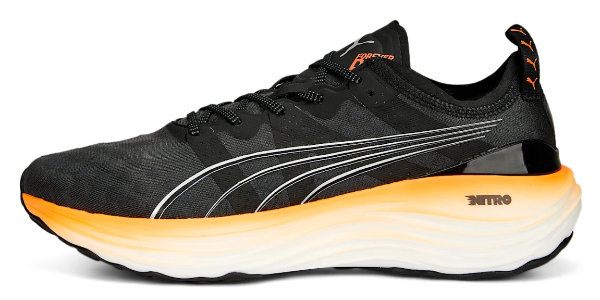 What makes up Foreverrun Nitro?
Midsole
Foreverun Nitro has a dual-layered midsole, combining the softer Nitro foam at the top with a firmer Nitro foam at the bottom. The idea behind dual-layered midsole is simple, The softer top layer provides a plush and responsive feel underfoot, while the harder Nitro foam beneath, provides stability and durability. So the good parts of Velocity Nitro are already here.
It has a 36mm stack height, which is just about the just at the median when compared to similar shoes in this category. I am surprised Puma didn't take it much higher, given that high-stack stability shoes are all the rage now.
What is interesting most is the runGuide system. It consists of two key components. Firstly, a layer of firmer foam wraps around the midsole on the medial side, which is supposed to offer support and prevent excessive pronation. Secondly, a TPU-based heel clip encases the heel, to provide additional stability and minimize the risk of unwanted movement at the heel. runGuide system is a unique take on stability when compared to Brooks GuideRails or Saucony's Hollow-Tech.
Forever Nitro caters to runners with different striking styles by incorporating a 10mm heel-to-toe drop. This versatile drop is suitable for both mid-foot strikers and heel strikers.
Despite all the stability features, Forever Nitro is relatively light. Weighing in at 274 grams, it is one of the lowest in its category.
Upper
The upper is very stiff and is probably designed for providing addtional support. It is an engineered mesh with two layers. It doesn't feel very breathable. The gusseted tongue is attached to the upper. The tongue has just enough padding and is comfortable.
Heel
The heel is supported by external TPU based heel counter, and is part of the runGuide system. The heel has ample padding. The heel also has a generous pull tab attached it.
Bottomsole
The bottomsole is called 'PUMAGRIP', the same branding that is used for rest of the Nitro lineup. The difference however is, it is J-Shaped hard rubber outsole and is much thicker and harder. It supposed to provide guidance, and an imitation of Hoka's J Frame, albeit just on the outsole. Hoka's J Frame is built into the midsole itself.
Why did I consider it?
When Puma approached me to test one of their Nitro shoes, I eagerly opted for the Foreverrun Nitro model, as it stood out as the most intriguing option within the Nitro lineup that I hadn't yet experienced. While I primarily use neutral shoes for my running, I have had past encounters with stability shoes. In the past, I have run in models such as the Saucony Omni, Guide, Asics Gel Kayano, and GT 2000, all of which provided stability features. Although I do have mild stability issues in my right foot, I handled them and don't rely on stability shoes anymore.
Ride in Foreverrun Nitro
I have run more than 100 km so far in the shoe despite running in it for more than a month, as I am simultaneously testing Saucony Kinvara 14 as well. I used it mostly for easy runs and long runs. But tested it also for occasional short interval runs and tempo runs.
For easy runs, the shoe truly excels due to its ample cushioning and mild responsiveness, making it an ideal choice. During the couple of long runs, which consisted of runs exceeding 25 km, I really appreciated the stability provided by the shoe. It also performed very well with good bounce and cushioning. The only downside I must admit is that the rigid nature (in terms of flex, and not having a rocker) of a stability shoe is something I didn't really enjoy. But most runners may not notice the difference.
When it comes to speed runs, I found the Forever Nitro to be highly responsive and stable. However, the shoe's weight and rigidity somewhat hinder its suitability for this type of workout, making it less than ideal.
Fit and Comfort
The fit of the Foreverrun Nitro is excellent for my feet, surpassing even the Velocity Nitro and Deviate Nitro. It provides a very secure and comfortable lockdown, particularly in the heel area.
The upper of the shoe fits snugly and has a pleasant feel to it, further enhancing the overall fit and comfort.
One peculiar aspect I noticed is the presence of an elevated foam in the middle of the insole. Although I personally didn't perceive a significant difference or added heel support from it, I believe it may serve a purpose in improving proprioception for runners who prefer using orthotic insoles.
Stability
It's been a while since I last ran in stability shoes. My impression of them was that they were heavy, and lacking in responsiveness. However, the Foreverrun Nitro changes my perception.
In terms of feel, it is reminiscent of other Nitro shoes like the Velocity Nitro, but with a bit of added stability. I tested it on an uneven lake bed, and the shoe's wide base makes running on such uneven surfaces, a pleasant experience. That said, the shoe doesn't compare to traditional stability shoes that have harder medial posts. If you are looking for a shoe with pronounced stability features, you may want to look elsewhere.
The upper of the shoe is notably rigid, contributing to its overall stability while maintaining a comfortable fit. The specially designed insole does seem to help, but I can't say for it sure.
Road Grip
True to its reputation, the Puma Grip outsole continues to impress. It offers exceptional traction on various surfaces, whether it's loose sand or slippery roads during Bangalore's monsoon season. Throughout my runs, I never felt a moment of instability or a slip.
Aesthetics & Ergonomics
I have the One 8 branded edition, a white colorway with a light green and blue accent (Puma calls it White-Fizzy Lime-Elektro Purple). I really liked the colorway, but for the maintenance of it. Given the monsoon, it didn't take much to soil the shoe. If given a choice, I would have preferred the black colorway (PUMA Black-Ultra Orange) which is very slick. The upper has Puma PWRTAPE bubble-shaped overlays which makes it harder to clean. The hard rubber on the outsole has huge inlays which also makes it harder to clean.
I really liked the large pull tabs, which are really practical to go in and out of the shoes pleasant. I wish all the shoe designers consider incorporating these.
Review Summary
PROS
Excellent fit with secure heel lock and snug upper
Surprisingly stable without being heavy or clunky
Reliable traction with the legendary Puma Grip
Ample cushioning which is bouncy and works well for long and easy runs
CONS
Weight and rigidity may hinder speed runs
Not the most stable shoe out there
RECOMMENDATION
Foreverrun Nitro is an excellent addition to Puma's Nitro lineup, catering to runners needing stability shoes. Its dual-layered midsole combines soft and hard Nitro foams for a balanced ride. With a 36mm stack height, it offers ample cushioning, while the runGuide system offers plenty of stability. The J-shaped hard rubber outsole provides exceptional grip. Despite the stability features, it maintains a lightweight profile at 274 grams. The shoe boasts an excellent fit, comparable to other Nitro models, with a secure heel lock and snug upper. Surprisingly, Foreverrun Nitro defies typical preconceptions with stability shoes, offering stability without being heavy or clunky. The shoe excels in long runs and easy runs, though its weight and rigidity may hinder speed runs.
If you are looking for a modern stability shoe, that offers mild stability, and don't want to compromise on bounce, and is practical for Indian conditions, Foreverrun Nitro is a stylish yet functional choice.

Aravind is a techie, running geek, and a marathoner. He is a CrossFit Level 1 Trainer. He loves all things technology and technology in running, with special interest in running form analysis.