Nike Vaporfly Next% Review
1000 km review of Nike Vaporfly Next%. Verdict- The Best carbon plated shoe in the market.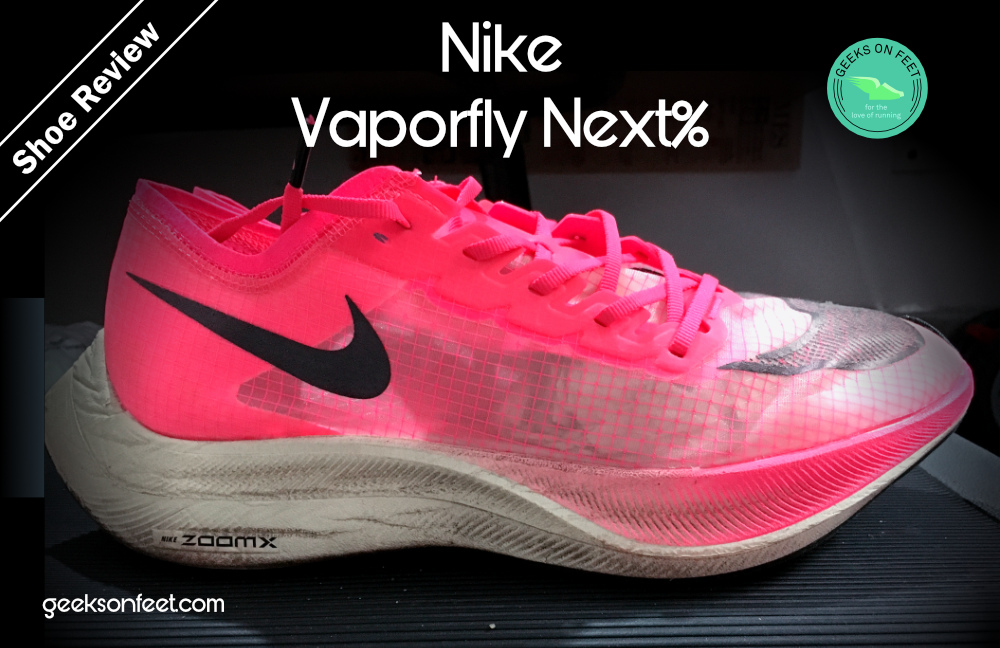 The Nike Vaporfly(VF) series of shoes have become synonymous with distance running around the world with some serious fan following. The VF series of shoes came into prominence first in early 2017 when Eliud Kipchoge ran in them in an attempt to break the 2 hour barrier in a marathon. He fell short by 26 seconds, but history was in the making. The shoe Kipchoge wore for the run, a customized version of VF 4%, grabbed lots of eyeballs. When the shoe was first released to the public in late spring 2017, it sold like hot cakes. Since then the shoe has undergone multiple iterations and has become commonplace at the holding area.
The Nike Vaporfly Next% (VF Next%) is the third iteration in the Vaporfly series and was released in 2019. The fully carbon plated Next% is primarily a race day shoe easily capable of handling distances from a 5K to a Marathon. A premium shoe by Indian standards (pricing wise), the Next% is best suited for your race day PR (backed by a solid training). If one is looking for a carbon plated shoe amongst the ones available in the Indian market, this would be the go-to shoe.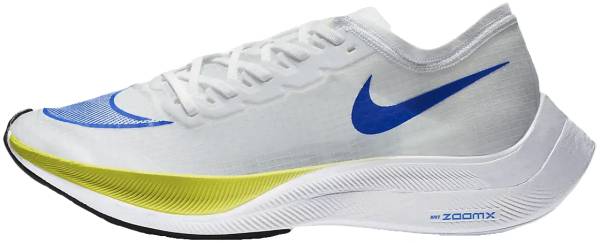 What makes up Next%?
Midsole - Uses a "Pebax" foam underfoot which Nike calls "ZoomX". The foam while being soft has high rebound, meaning you get more bounce with every step you put in the shoe. The midsole comes with a full length carbon fiber plate that provides the stiffness and the springy sensation you feel during your run.
Heel Drop - The heel to toe offset is 8mm making it slightly more stable than the previous versions. There is also more foam (15% more) as compared to previous versions under your foot. More foam, more bounce, more fun.
Padding - The almost collapsible heel is slightly padded while the tongue isn't. Both are insignificant during the run
Lacing - The shoe comes with offset lacing which apparently releases lacing pressure on your forefoot.
Ride in Next%
Usage - The current pair of Next% has 956KMs (documented) and may have another 30+KMs (not documented) on them. The initial hundred or so kilometers were primarily races across 5K, 10K, Marathon categories. In 2020 with the pandemic setting in and races cancelled, I started using them for my daily runs as well. I have used them for easy, tempo, intervals, long runs, races and even to just plain walk in them (only a couple of times).
Durability - As with every carbon plated shoe, the life of the shoe is debated a lot. As to how long can a shoe be used while retaining its "bounciness". With close to 1000 Kms on them, I still find them good enough for my everyday runs. Though there is substantial wear in the heel region, the forefoot is still intact. The upper is held well in spite of multiple washes and runs in rain. The bounce is still comparable to any fresh out of the box daily training shoe (read Pegasus 37 /Kinvara 10 / Beacon V2 / Nimbus 22 / Propel V2). I may not use them for races, primarily because of the condition they are in (see images) but when it comes to feel underneath your foot, they can give any other shoe a run for their money even with 1000kms on them.
Feel - The shoes perform well across all categories of workouts. The midsole cushioning is soft, however the rigidity provided by the embedded carbon fiber plate gives it a bounce/springiness which propels you forward. The shoe works well at all paces. You can take them out for your easy long runs, wear them for your track workouts and they will not let you down. However, I feel the shoes perform for what they are designed to be at paces faster than 5:00/km. So, if any of your training paces are slower than 5:00, one wouldn't get much out of these shoes.
There is a lot spoken about how your legs still feel fresh after running long/hard workouts in these shoes, I haven't felt that way. At least not noticeably. Often a lot of undue credit is attributed to the shoe than to your own bodies which have adapted to the training loads and have gotten stronger.
Stability I am an overpronator and these shoes are as unstable as they can get. But like with every other shoe, once you have run some distance, one gets used to the construction of the shoe. However, this distance varies from runner to runner. If your initial runs haven't gone as per your expectations, give it sometime. Run at least a couple of hundred kms in the shoe before you decide to give up on them is what I'd suggest.
Grip - The shoe has a thick rubber outsole in the forefoot which grips well on road and track (surface I have used them on). The traction is good even in wet conditions and there is no slippage. The corners depending on how you tackle them can be a little tricky. I always feel one of my shoe will come off when I bend around a corner. Overall, the shoe does a decent job of tackling corners.
Fit and Comfort - I use a US 10/ UK 9 in Nikes. The shoe runs true to size. The fit is just right, not too snug nor too loose. The toe box is wide enough and there is ample space for your feet to play.
With asymmetric/offset lacing system, the lockdown on the forefoot is secure. One can play with the lacing to get the fit right. I am comfortable with the lacing that the shoe comes with and use a double knot for a tighter fit.
Midfoot is where things start to get a little dicey, it is quite narrow and I get a feeling that my arch will fall off the shoe. More so on my right foot as it overpronates more compared to the left. This kind of settles down after you have run a few kms in the shoes.
There isn't much support in the heel and it is lightly padded. There is no heel slippage per se and one can use the additional eyelets for a more secure heel lockdown if one wishes to.
The shoes can be used straight out of the box for your runs/races if you have been running in previous versions of the shoe. If these are your first pair, better to get some distance on these shoes before you decide to use them for races.
Aesthetics - Nikes have always been aesthetically pleasing. The Next% look good, they look fast and feel fast too. The upper is an engineered mesh, Nike calls it the "Vaporweave". The upper is water resistant and quite breathable. The shoe lacks visibility but that's just a minor inconvenience. The outsole with its grooves does a good job of channeling water out from under your foot while keeping small stones away.
Why consider Next%?
The Next% is undoubtedly the best carbon plated shoe in the Indian Market. Consider these for your races and fast training runs if you are looking for some great bounce under your feet. The next iteration of Next%, Next% 2 is currently available with an updated upper.
Review Summary
PROS
The Best carbon plated shoe in the market
RECOMMENDATION
All kinds of runs- Long/Easy, Tempo, Intervals, Racing for 5K and above. Rotate with any other non-plated shoe so that on your race day, the plated shoe will make you fly.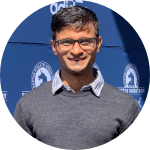 Sharath is a three time Boston Finisher. He has a personal best marathon timing of 2:46:06 (Chicago 2019).