Nike Air Zoom Pegasus 39 Review
Nike's daily horse is now as perfect as it can get - it's fun right from unboxing to putting on the mileage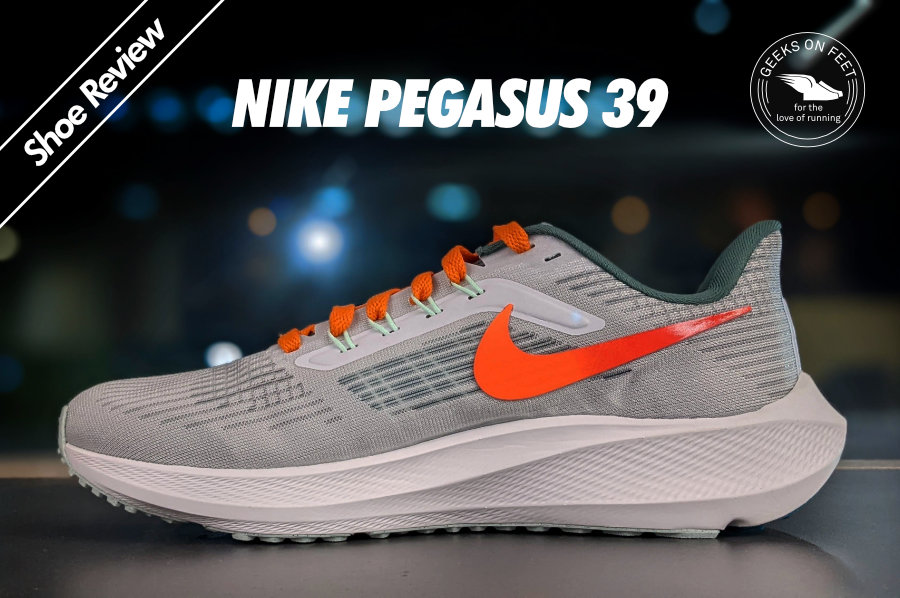 Every summer, we look forward to what Nike has got to offer in the Pegasus series, an iconic neutral daily trainer. Surprisingly, never before have I seen Nike launching something globally and retail stores in India at the same time. I was quick to pick up the Pegasus 39 from a retail outlet in Mumbai, for review purposes. The first in the series I picked was Pegasus 35, which featured a full-length air zoom pocket, and Flywire, and there was no reason to hate it. Did anyone say over-plush tongue? Damn! I loved it, through the 1500+KMs mileage, I had put in them.
The next in line, Pegasus 36 didn't feature any significant updates, since Nike believes in providing major updates once in two years. I tried the Pegasus 37, but the fit didn't work well personally, Pegasus 38 was also a disappointment. Both the previous editions had a wider toe box which doesn't work well for me.
Pegasus has always been known for its cushy and responsive ride and is the best-selling shoe for many other reasons, so Nike wouldn't shy away from correcting a few elements to offer a better overall ride.
The Pegasus 39 was due for significant updates and the changes are quite visible right out of the box. I was well prepared to unbox just another heavy daily trainer and that's exactly where the surprise began. Contrary to what happened in the recent past with the Pegasus line finally, it is refreshing to see 39 follow a diet and shred some weight.
So let's dive into the detailed review. Spoiler alert, it's an excellent and a much recommended daily trainer from Nike.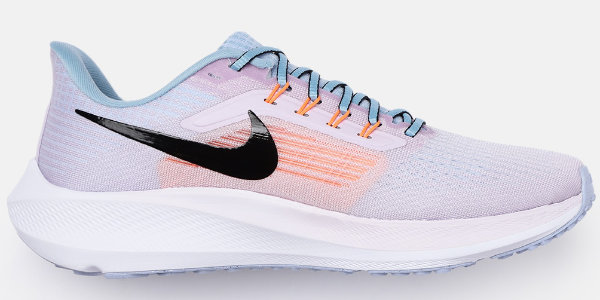 What makes up Nike Pegasus 39?
The Nike Pegasus 39 is a neutral daily trainer, it fully deserves its daily workhorse monicker. The shoe for ages was meant to put on the daily mileage, and very aptly does it, not just for the amateurs, but also for the elites. This edition of Pegasus makes some significant updates in its midsole and the upper. It also shreds some weight, weighing just 261 grams for size UK 8 against Pegasus 38's 291 grams.
Midsole
The Pegasus 39 midsole features Nike's React foam. It is durable and is believed to last about 25% more than the other foam out there. Nike has magically made it softer. It is not a plush cushion soft, but adequately soft and softer than the previous editions and yet firmer enough to put on tons of kilometers.
The shoe has a stack height of 33 mm on the heel and 23mm on the forefoot with a 10 mm heel-to-toe drop.
The midsole more importantly packs two air zoom pockets unlike previous editions, and this is one of the major changes. One is placed right on the forefoot will land and another on the heel. Similar air zoom pockets packaging was last seen in Pegasus 33 and 34. Whereas the 35 saw the full-length zoom pocket.
On putting them on, you'll generously feel plush cushioning below the midfoot, which won't surprise you if you have trained on any of the Pegasus shoes before. Even otherwise, wouldn't take time to get used to.
One more aspect of the update is the flex grove. You would have always seen a flex grove only at the top of midfoot in the previous editions. The Pegasus 39 packs two of them under the midsole. In addition to the usual, there's an additional flex grove right in the midfoot where a mid-footer would typically land and glide.
We have measured the softness of the midsoles of a few popular daily neutral trainers with a Shore Durometer. We generally believe Pegasus to be more firm, and hence not soft enough. That's not the case with Pegasus 39. The durometer score of 28 puts Pegasus in between a firm trainer and a plush trainer. The magic formula Nike has applied in the React foam for Pegasus 39 has made it squishy, and you feel it when you press it.
Overall, it's the midsole where the Pegasus 39 has seen a significant update, and this is exactly where the shoe has lost its weight.
Upper
Atlast, the upper of the looks breathable. Upper is another aspect where the Pegasus series has got an update. The upper is made of engineered mesh, which is flexible on the forefoot to accommodate wider feet but it runs narrow. There's an added softer inner sleeve which is attached to the tongue and shields flywire.
Yes, you heard it right. Flywire makes a comeback in Pegasus 39, and that is something that I loved the most in Pegasus 35. The concept of flywire was derived from the suspension bridge, where cables provide support. In shoes, they help secure the midfoot and the arch. The first athletics shoe with flywire was launched by Nike in 2007. The first one in the series to feature flywire was Pegasus 32. Flywire was skipped in Pegasus 37 and 38, and probably was one of the reasons behind my not liking them. The comfort and the lock they provide are just perfect.
The asymmetrical tongue is mildly padded and non-gusseted. Laces are typical of Pegasus and will require a double knot. I additionally bought a customized one from Nike to match the orange shade of the swoosh logo.
Heel
The padding around the heel is too plush. While some might like it that way, this is something that makes it not ideal for hot humid conditions. That's something I hope is considered in the next update. The heel counter is hard, locks in well, and goes a little deep to prevent heel slips, something which haunted a few earlier editions. On the outer, the heel bevel will help reduce the impact on landing and further assist smoother transition from heel to toe.
Outsole
Pegasus is one of the most durable trainers out there and sits well on the top. If you have trained on any of the Pegasus before, you wouldn't see a major difference here. The rubber aptly covers the midsole and runs deep enough to help you run through the surfaces you want. I have run on them on a variety of surfaces and they have fared up really well. More on them later.
Why did I consider this shoe?
Pegasus is a synonym for a daily workhorse. It has been known to help clock miles after miles. You'll notice runners use them every day, for a variety of workouts, and I was no different a few years back with the Pegasus 35. There would be no surprise to notice a lot of runners wearing the Pegasus trainer in any race.
One would always want a trainer, that can be picked up for any type of workout, and even on a race day. My search for a versatile trainer started and ended with Pegasus 39. If not for fit issues, I would have also trained in Pegasus 37 and 38.
Ride In Pegasus 39
I have run for about 50+ KMs on the Pegasus 39, covering a variety of workouts, including a 10K race. Yes, race day. Who says Pegasus isn't a race day shoe? Our analysis of the shoes used by runners in the Tata Mumbai Marathon 2020 says nothing different
So, like always, the first run was an easy break-in run. I was expecting a firm ride with a little bounce. While the bounce was expected, I didn't expect the midsole to be softer. React foam is the most durable foam from Nike so one would expect it to be on the soft side.
TCS World 10K race was right around the corner, and after some deliberation, I've decided to pack in the Pegasus 39. I was able to run through the wet roads and puddles very comfortably though I couldn't clock my PB there. The soft and firm midsole, flex grove, and the mildly responsive air zoom pocket attempts to aggressively push you through. But our expectations of race day shoes have changed now, given the innovation in racing shoes with carbon plates and rocker geometries, and much lighter midsoles. So it is certainly ain't a race day shoe, unless Pegasus is all you got.
The ride experience was no different on the interval runs and tempo runs. They seemed to be a perfect companion for your easy runs and long runs. Even though there is an added air-zoom pocket on the heel, it didn't matter much to me. Those who strike with heel, probably will find it super useful.
Fit & Comfort
You can't go wrong in the fit and comfort element of the best-selling running shoe. Out of the box, I was amazed at the lightness of the shoe. Recent editions of Pegasus have been gaining weight, and that changes with the Pegasus 39, marginally! It is still heavy but is now the lightest in the series. I would have ignored weight, if I had not reviewed its competition, the Skechers Gorun Ride 9 recently.
Putting them on didn't feel easy though, but that doesn't matter. All that matters is the fit and comfort during the run and it's not that bad. Thanks to flywire, the lockdown of the midfoot is the best among competition. There's good arch support. The toe box is roomy enough for a narrow feet runner like me but is flexible for wide feet runners. The upper looks breathable, however it still runs warm. This is largely due to an additional sleeve in the upper, mildly padded tongue and plushly padded heel. This is again where the Skechers Gorun Ride 9 (review) did it better.
Stability
The Pegasus 39 is a neutral trainer out of the box, but it does offer a stable ride thanks to the apt midfoot lock , firm ride and grippier outsole. On the muddy track run, cornering was not at a problem. There isn't any other stability element.
Durability
Pegasus is one of the durable trainers out there. It's not just about the outsole, but the overall element and structure. The react foam is the most durable one out there. The outsole formula has remained constant and there's nothing wrong with keeping what works. Though the rubber doesn't completely cover the midsole, it is tough and deep enough to comfortably stride through wet patches, puddles and some off roads. The only time I struggled was when slippery mud patches on the roads because of rains, but that is more technical.
For the majority, this is worth keeping at the top in terms of durability. If I was a one-shoe person, I would train for about 1000KMs on these.
Aesthetics
I have the grey-orange colourway and they look decent. The Pegasus 39 is well built with some reflective elements on the heel counter and the eyelets. Having said that, the shoe lacks quality aspect. The swoosh logo came off after my race day at the TCS 10K. I believed it has to do with the rains, the mud, and so on. So I got it claimed and exchanged, the process took less than a week, thanks to the swift response from Nike's online and retail team.
This is where it gets bad. The exchanged shoe also had the same problem. While the first one was made in China, the one I'm using now is made in Vietnam. In this exchanged version, the swoosh logo came out of the lateral side. Please tweet to us @geeksonfeet and let us know if your shoe had similar issue. Overall, this is only gripe I have of the shoe quality, and hence would rate it 8 out of 10.
Review Summary
PROS
Lighter than previous editions
Smooth and responsive ride
Durable midsole and outsole
Excellent traction on wet surfaces
CONS
Quality control issues with finish
RECOMMENDATION
Nike Pegasus 39 has been a no-brainer recommendation for anyone who comes to me asking for a shoe recommendation for daily training. The ride is comfortable, responsive and snappy, and doesn't require any break-in. Most importantly Its versatile nature, which will keep them on the top of your shoe rack. Even though Pegasus 38 is on sale now, I would recommend Pegasus 39 for the changes it has brought in.
Rotation - With Nike's offering, Invincible for Recovery Runs, Pegasus 39 for easy runs and moderate-paced long runs, and Zoomfly faster tempo and speed work. Beyond Nike shoes, I would use the Hoka Clifton 9 for Recovery Runs and slow-paced long runs, Pegasus 39 for easy runs and moderate-paced long runs, Evoride 2 for speed intervals and short tempo and Nike Zoomfly for long tempo and race day. I would prefer alternate Skechers Gorun Ride 9 and Pegasus 39 quite frequently since the latter one is more lighter and breathable.

Karthik (https://www.instagram.com/runkarthikrun) is a business analyst by profession and a long-time volunteer contributor to Wikipedia. Apart from his enthusiasm for running and photography, advancements in mobile & wearables technology are of utmost interest to him. He is co-founder of Mumbai-based Tilaknagar Running Club.