Cultsport Windblazer Review
A do it all beginner shoe in the budget, good for treadmill running, and cross-training.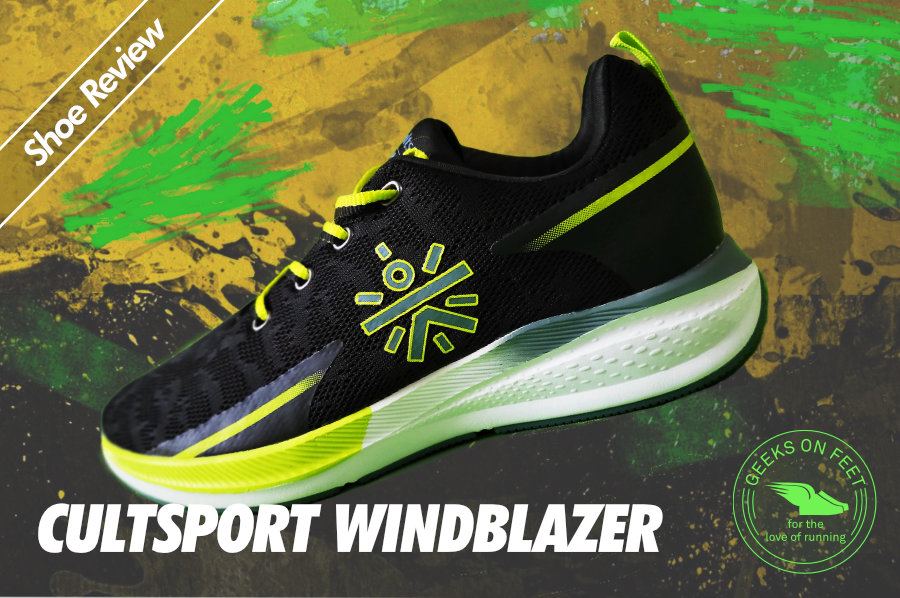 The sport of running has been on an upward trajectory for some time and has jettisoned further with the pandemic. People have become more conscious of their health and have taken up running as one means of keeping themselves fit. People are spoilt for choices when it comes to choosing a running shoe, for running shoes are a universe unto themselves. It often leaves people confused when they see shoes in price ranges varying from low 2000 rupees to prices upwards of 20,000. A good-quality running shoe is still out of reach for many who want to take up running.
As a self-proclaimed shoe dog, I have been hoping that innovation from home-grown brands will change this situation. The last few years have seen shoes like ArcRacer from Elevar Sports, and shoes under the Power brand (owned by Bata) show some promise. ArcRacer has a midsole foam that looks styrofoam which is similar to Boost foam used in the Adidas Ultrboost line, and a knit upper, while Power Running shoes use a relatively modern variation of EVA foam. Priced at around 5,000 INR, these have shown that it is possible to indigenously design quality budget running shoes in India.
In this crowded space of running shoes, when Cultsport (famous for its chain of fitness centers) released its line of running shoes, I was quite intrigued to check them out. The shoe geek in me couldn't resist and I bought the model Windblazer, which is touted to be the best of the line-up. Windblazer is sold at an MRP of 4,299 and often can be picked up at 2,000 on sale, a steal for a running shoe.
The question is - Does it realize the promise of affordable quality running shoes? Read the review to see how it fares as a running shoe.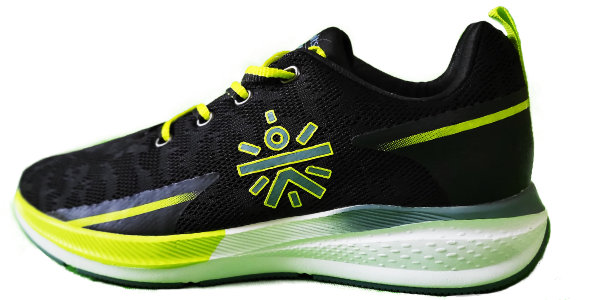 What makes up Windblazer?
The first thing that you notice about Windblazer is its weight. Holding it in your hands, you can't help but notice how heavy and rugged it feels. It weighs around 325 grams for men's UK size 10. Quite heavy for a running shoe. The weight largely comes from the solid construction the shoe has and hence the ruggedness.
Midsole
The midsole uses compression-molded EVA (CMEVA) foam, which makes it more precise in its size and shape. The stack height of 28mm (at the heel) gives a decent amount of cushioning. An 8 mm heel-to-toe drop is in line with the design of contemporary running shoes. The durometer of CMEVA foam used in the midsole is about 38, which means it feels hard under the weight when compared to a typical daily neutral trainer. In fact, it is one of the hardest midsoles we have ever seen in a running shoe. Imagine a block of "Natraj" erases under your feet, that's how hard it feels. The hardness offsets the generous amount of foam used, otherwise what could have been a well-cushioned neutral trainer.
Here is a comparative view of how soft is Nitro Elite's midsole is, when measured the softness with a Durometer. At 25 HA, it is the softest.
Upper
Things get interesting in this department. It has a multi-layered mesh, with plenty of added padding, and overlays. It looks quite premium and seems to have been designed with durability in mind. In fact, the upper is so well padded, that it resembles shoes designed for cross-training. The upper design doesn't help much with breathability, and the feet get hot after a while. The tongue is heavily padded, but not a gusseted one. Another peculiar choice is with the eyelets. There are only 4-eyelets which is very uncommon in running shoes. Typical running shoes have 6-8 eyelets. This severely limits the ability to adjust the shoe fit. The eyelets have a metal which clearly shows that the designers are not well-versed with the needs of runners. Laces are slippery as well.
Insole
Cultsport claims the insole is German engineered. I am not sure what that really means, but it is one of the best insoles that I have set my feet on in any running shoe. It is plush and soft, which is probably the only reason the shoe is runnable, despite the harder midsole.
Heel
Heel is extremely well padded. There is a hard plastic heel counter, which offers plenty of support to the heel. The plushness of the heel offers plenty of comfort during the run. The pull-out tab on the back of the heel is nice touch.
Outsole
Outsole sole has plenty of rubber throughout and should make it highly durable. What seems like an inspiration from Nike Pegasus line of shoes, the outsole is remarkably similar, and has pentagon-shaped lugs which provide the necessary grip. I really liked the small detail such as the Cult logo engraved on each of those pentagonal lugs.
Ride In Windblazer
I have run about 60kms in the shoe. Primarily easy runs and a few moderate efforts runs with strides. The shoe is not made for speed. It feels clunky and took me a couple of runs to really break-in. Any distance above 5k, no matter the pace, feels like a chore.
The hard midsole doesn't offer much protection in the mid and forefoot areas. Running longer in the shoe means, the runners will have to learn to land on the heel. That completely negates the 8mm heel drop and promotes heel strike. If you are a mid-foot striker, you will take a lot of time to break in into the shoe.
The heaviness of the shoe is very evident when running at easy paces. When running strides or faster paces, the hardness of the midsole, and lack of responsiveness really makes me wonder, what is this shoe really meant for?
Fit & Comfort
I am using UK 10, which is the usual size for me in the other brands. For UK 10, the size guide shows 28.7 cm, which is almost half a size smaller than the running shoes from brands like Nike, Saucony, and Puma. The shoe fit is snug, thanks to the plush padding. However, the plushness is what makes it extremely warm and uncomfortable for any run longer than a 5K.
Beyond 5KM, the shoe doesn't have much to offer, and it is best avoided. Cultsport is honest in marketing this as a short-run shoe. While it is not mentioned anywhere, it is evident that the shoe is primarily designed for treadmill running and is made for cross-training in the gym.
Stability
The hard midsole foam definitely makes the shoe stable. Given the lower stack height, and a stiff upper, it is a pretty good shoe if you want that a bit of added stability in a neutral running shoe.
Road Grip
Traction on tarred roads is pretty good. Despite plenty of rubber and some interesting lug design, traction on wet or sandy surfaces is sloppy.
Aesthetics
I have bought the black colorway with a yellow accent, with a cult logo, looks quite contemporary and eye-catching. It can easily pass off as a causal sneaker, in addition to being a shoe for cross-training with a bit of running thrown in. Post this review, that is how probably I intend to use this shoe as, a sneaker, and a do-it-all shoe to use at my CrossFit box.
All in all, the shoe is decent but nowhere close to my expectations of quality running shoes on the budget. That said, this is a good start for the first edition from Cultsport, and I hope they will continue to evolve the shoe to meet the runners' needs and build on this.
Review Summary
PROS
Highly padded upper and heel
CONS
Midsole cushioning is quite hard
Road traction could have been better
Heavy and hard to put in miles
RECOMMENDATION
If you are looking for a low-cost do-it-all shoe for short-runs on the treadmill (or road), and some strength training, Windblazer is a good choice. While there are plenty of areas to improve on, Windblazer doesn't feel cheap knock-off. On the contrary, it is quite well constructed and is very durable. At under 2000 rupees(after discounts), this is a good buy for short runs before your strength workouts. I wouldn't recommend it as a daily trainer unless you are just starting, and the running distance is not more than 5k, and are on a budget. Serious runners will do well to stay away from this one.

Aravind is a techie, running geek, and a marathoner. He is a CrossFit Level 1 Trainer. He loves all things technology and technology in running, with special interest in running form analysis.