ASCIS Hyper Speed Review
Multi-tester review of ASICS Hyper Speed (Men & Women editions): A lightweight, and fast rocker shoe in the budget. Works well for speed workouts, short to medium-distance training runs, and races under 10K.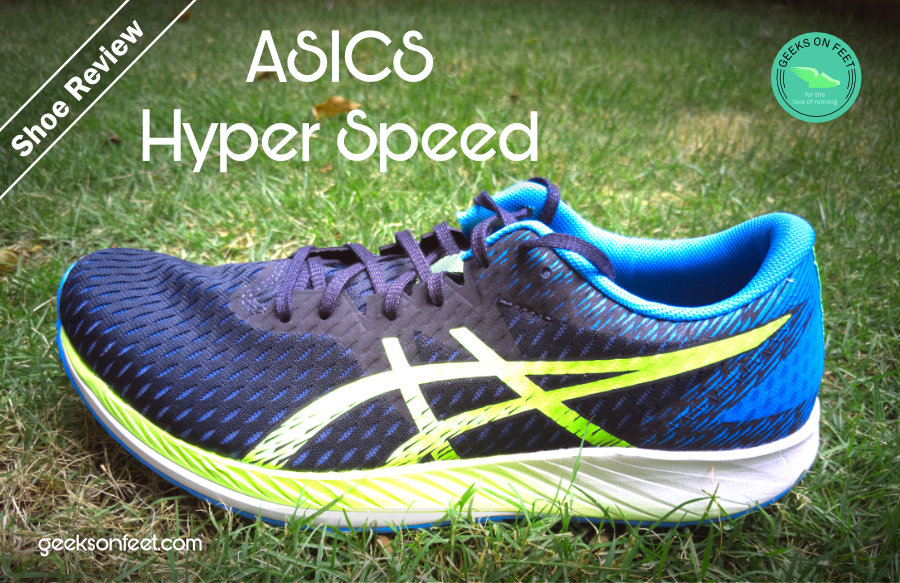 If you have used the ASICS Gel Hyper Speed series of racing flats, you will be in for a surprise with the latest avatar of ASICS Hyper Speed. In the past, it has been a lightweight shoe with a low heel drop and just enough cushioning. New Hyper Speed while maintains the good parts, it is a very different shoe.
At the higher end of the running shoe market, shoes have completely changed over the last 4 years - high stack heights, rocker bottoms, and lightweight foams. However, at the lower end of the market, things haven't. Asics Hyper Speed takes a fresh perspective at the lower end of the market segment.
What makes up Hyper Speed?
Hyper Speed has a rocker midsole design, with a high stack height and high toe spring.
Geometry: Hyper Speed is a rocker-bottom shoe. Rocker-bottom shoes are popularized by Hoka One One, and now have become mainstream. Rockers help runners to transition from landing to toe-off smoothly, and are supposed to help better running economy. As can be seen in the picture, rockers have a high toe spring angle and an exaggerated heel spring. Asics says Hyper Speed's geometry was inspired by its Guidesole design. Guidesole is used by Asics, for their other rocker shoes such as Meta Ride, Glide Ride, and Evo Ride.
MidSole: Midsole is made of spEVA (a blend of EVA and rubber). Blending rubber with EVA supposed to make the shoe more bouncier. The midsole has a relatively high stack height (30mm) for a shoe in this category. High stack height also helps with running economy. The shoe has an 8mm drop from heel to toe.
Upper: Upper is a mesh structure and is made of very lightweight and breathable material, to help the runs to be more comfortable.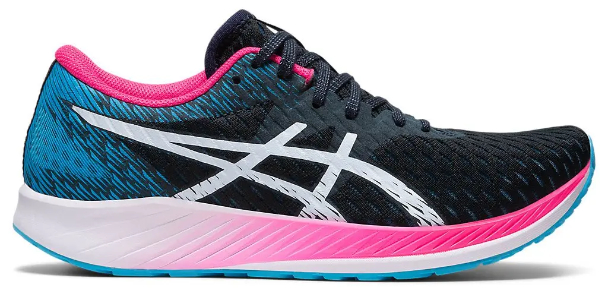 Why buy Hyper Speed?
My training mileage has increased recently with longer runs and faster workouts. I am on the lookout for a new shoe that can handle the volume and intensity. Another criteria I have is the price. Hyper Speed matched my needs perfectly.
Recently I started my speed training in preparation for the upcoming season of races. Asics Gel DS Trainer that I use reached its end of life. I am on the lookout for a shoe that is light weight, and good for speed training. Hyper Speed seemed to fit the bill perfectly. A rocker bottom design, high toe spring, high stack height, and extremely lightweight shoe for under 5000 rupees I thought is a steal.
Running in Hyper Speed
I have run more than 50 KM so far. Used them for Tempo runs, intervals, fartlek, and hill workouts. It is great for faster workouts such as tempos and fartlek runs. It is much lighter compared to shoes I used in this range, which definitely helps me in speed. The cushioning is bouncy to give an extra push from the ground. The cushioning keeps the foot firm while running, also provides stability, and is very comfortable.
I have run about 90 KM in these shoes for easy runs, recovery runs, interval runs, and tempo runs. The shoes handled all of them well.
Easy Runs are very comfortable in these shoes. It provides decent cushioning, good for easy and recovery runs.
Interval Runs are when geometry and aggressive toe spring really come into effect. The transition from mid-foot to forefoot is extremely smooth when taking off. The geometry encourages forefoot strike. Here is the foot strike as observed when running in Asics Gel DS Trainer (mid-foot strike) and Asics Hyper Speed (fore-foot strike). (courtesy: runmechanics.in).
Tempo Runs can really take advantage of the bounce offered. But don't expect too much bounce like that offered by foams like PEBA or e-TPU. spEVA midsole cushioning is very firm and works very well as a daily trainer for shorter runs under 15k. Longer runs beyond 15k, one can feel the fatigue.
Rocker design, aggressive toe spring, and excessive heel spring can be uncomfortable and may need getting used to for heel strikers.
Fit and Comfort
Having a wider foot, and a bunion problem, I was worried about the fit. But it wasn't a problem. The flexible upper gives a good amount of space for movement inside the shoe. The forefoot is roomy and yet secure while running. I've felt the impact on the knees is much lower. I got used to the shoes' feel after just a half an hour of running. The mesh upper feels light and loose because of the breathable material. Lacing is good, and it is easy to wear shoes as well. The only problem I faced was that the tongue of the shoe is a little uncomfortable. Tongue crumples and can chafe if you are not wearing good socks.
It is true to size and fits the same as other Asics shoes that I have used. The mesh upper has rough edges and is not the best. The sock liner is surprisingly thin and attaches itself to the midsole with glue. The heel of the shoe is very well padded and locks perfectly, which is very important for those faster interval runs.
Stability
The shoes are light but at the same time are very good with stability. When I add a lot of Mileage in a week, the runs towards the end of the week were on fatigued legs. Stability is important to avoid injuries. These shoes feel very stable for faster runs even on fatigued legs.
While the stack height is big, the wider base keeps the shoe stable enough for shorter runs. Stability is better compared to other neutral racing flats. Here is a comparative graph between Reebok Run Fast 2 and Asics Hyper Speed. Pronation angle averaged at 12 degrees for Run Fast 2, while Hyper Speed is quite stable at about 10.5 degrees. (courtesy: runmechanics.in)
Aesthetics
The darker colourway that I have is simple and looks very neat. The trademark Asics tiger makes it look fast and classy. The shoes are easy to clean and dry very fast. The sole of the shoe does not pick up stones or leaves.
Review Summary
PROS
Breathable, roomy, and comfortable to wear
Rocker bottom is great for faster runs like tempos and intervals
Firm cushioning protects well from shock
Excellent value for Money
CONS
The tongue of the shoe is slightly uncomfortable
Road grip is not the best in its class
Not so comfortable for distance beyond 15K
RECOMMENDATION
Highly recommended as a daily trainer for speed workouts, and short distance races up to 10k.
For those looking to use rocker-bottom racers or looking to transition to midfoot strike, Hyper Speed is an excellent transitionary shoe.
Under 5000 rupees it is the best in its class.

Sharanya is a national-level runner, competing in the under-16 girls category. She is into middle distance running, from 800 - 2000 meters. She aspires to represent the country someday.

Aravind is a techie, running geek, and a marathoner. He is a CrossFit Level 1 Trainer. He loves all things technology and technology in running, with special interest in running form analysis.